Undela: Easily Recover Deleted Files From Removable & Local Hard Drives
The data recovery utilities are designed to scan the free space (created by the OS after removing the data pointers to the files) in order to recover the deleted files and folders. Often, we come across situations where we need to restore a deleted file. Since the original file can be restored only before any data is overwritten on that space, you can use an application that checks the free space for deleted files and provides you with a list of files that can be restored. In the past, we have covered a simple, yet powerful data recovery tool named Recuva that can recover Pictures, Music, Documents, Videos and other files even after they have been removed from the Recycle Bin, but if Recuva hasn't been able to recover all the required data from the hard disk, you can consider giving Undela a try.
It is an application for Windows that allows you to recover deleted files from hard disk, as well as removable storage mediums. The application has the ability to recover files from NTFS, NTFS5, FAT12, FAT16, FAT32 and XFS formatted drives.
Select a deleted image and click the Preview button in the top right corner to have a preview of the deleted images and documents before recovering them from the hard drive. The main interface of Undela is divided into three panes. The left pane lists down the hard drive volumes, while the content of selected drive can be viewed from center pane. Similarly, the main window shows the content of the selected folder. The toolbar holds options like Scan, Full Scan and Advanced Scan, allowing you to start the required recovery operation.
The application supports a wide range of removable storage drives including Hard Drive SD Cards, Compact Flash Cards, Sony Memory Stick, Multimedia Card, USB Drive, Smart Media Card, Digital Cameras etc. To Start a scan, just select a drive and click Scan button on the toolbar to view all the deleted files that can be recovered. The Preview button at the top right corner allows you to preview the files before starting the recovery process.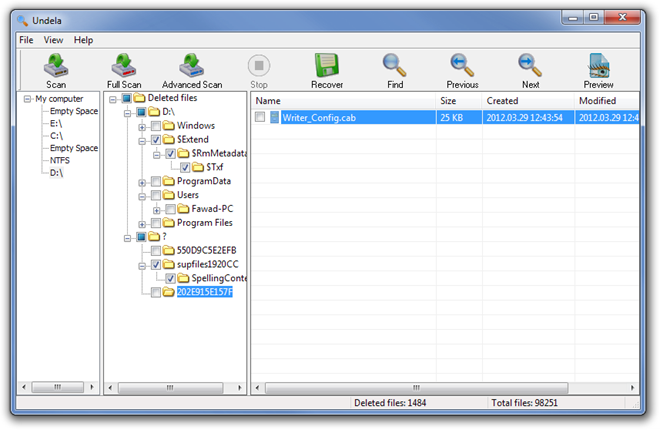 The Options dialog box can be accessed from the File menu available at the top left side of the main interface. It lets you select the File Types to look for during Advanced Scan. A long list of file types is included, such as 3GP, 7Z, ACE, AIF, ANI, APC, APE etc.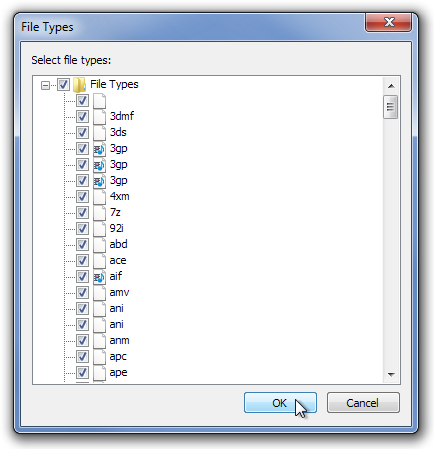 The application works on Windows and Linux OS. Both 32-bit and 64-bit OS editions are supported.