Completely Uninstall/Remove Antivirus And Security Software From Your Computer
Do you want to remove Norton anti virus or any other security software that you may have installed? Security software like antivirus and antispyware are not easy to uninstall. If you uninstall them using Windows build-in tool, it is not enough. There are still files deep inside your system such as registry files that have not been removed properly, that is because it can't be removed using the Windows build-in Uninstall Program tool.
When you uninstall one antivirus software and get ready to install some other antivirus software, you will be disappointed to receive a message that previous antivirus was not removed properly. AppRemover, if you haven't heard of it before, is a cool little software designed specifically to remove such antivirus software completely from your system. Since it is still in development, it only supports Windows XP and Vista for now.
This software is handy for people with two kinds of problem,
1. They are unable to uninstall antivirus software because it is corrupt.
2. They have removed the antivirus software, but it has not been removed properly.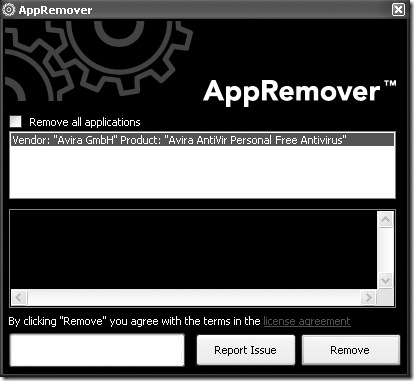 Once you have downloaded the program, open it(no installation required) and it will automatically detect all antivirus software that have not been removed properly, now simply click the Remove button to uninstall them completely. Enjoy!