Unlock Files & Folders And Define Post-Unlock Actions With UnlockMe
Whenever a file is in use by an application or Windows service, it gets locked by the system, preventing you from deleting, renaming or moving it. Even though it's a neat feature, sometimes Windows keep the file locked even when we are done with it, and states an annoying message "Cannot delete file: It is being used by another program" in a dialogue window. This problem can be so annoying that we even need to reset the PC in order to delete or move the file. Last month, we covered a tool named Free File Unlocker, which lets you unlock system-locked files and folders, and lets you perform delete, rename, copy and move actions, even when they are being used. If that application didn't fulfill your requirements or you simply want another alternative solution, then UnlockMe is what you should probably try. Akin to the previous application, it is a file unlocker utility that lets you unlock multiple files and folders at a time, and perform post-unlock actions on the files, folders and services. It can be especially useful when trying to delete viruses, or terminate malware processes that restart as soon as you shut them down or prevent you from deleting them.
The interface is quite ordinary, though the application neatly does the job it's designed to do. It has a Path field at the top to manually select files and folders for unlocking via the browse button. There is a Process list is in the center that enlists Process name, PID, Owner, Path etc., while After unlocking/ terminating section at the bottom left includes Do Nothing, Delete, Rename to and Move to. Besides it is Refresh and Show all locks options. The Unlock, Unlock All and Terminate buttons are also appear at the bottom.
To view all the current process, select Show all locks and click Refresh. Now, choose a process that you want to unlock from the list, define the After unlocking operation and click Unlock to unlock it. Likewise, you can terminate the process by click Terminate button.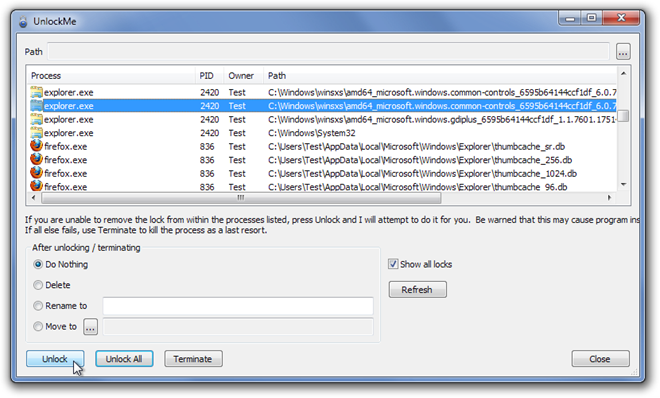 UnlockMe integrates the unlocking option in Windows Explorer right-click context menu for files and folders. Right-click a file or folder and select UnlockMe from the menu to unlock a single item.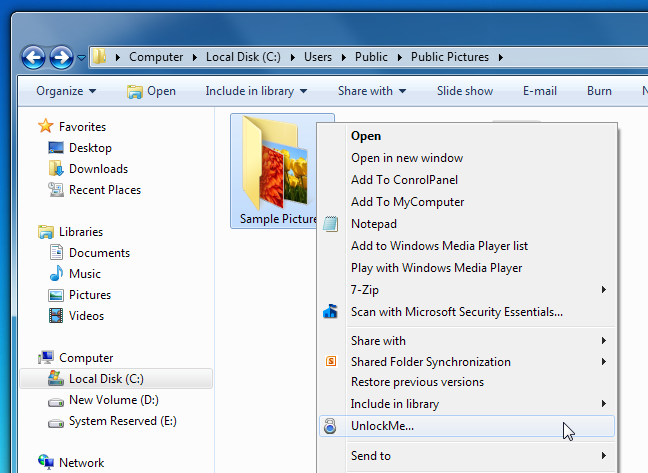 UnlockMe is an excellent application which is presented in a simplistic manner to make it easy to use. It works on Windows XP, Windows Vista and Windows 7. Testing was carried out on Windows 7 Ultimate edition.