Unlock Your Locked Domain Accounts With Lockout Fixer
When you talk about unlocking domain accounts, Microsoft's tool Lockoutstatus.exe might pop up in your mind, but the tool lacks in telling about audit failure logs. Lockout Fixer is a small free portable application which not only helps Network administrators to unlock the domain locked accounts, but also tells about audit failure logs, written at the exact time of bad password or account lock out.
Those event logs, identifies the IP address of the node, which helps out in focusing and solving that specific node's issues.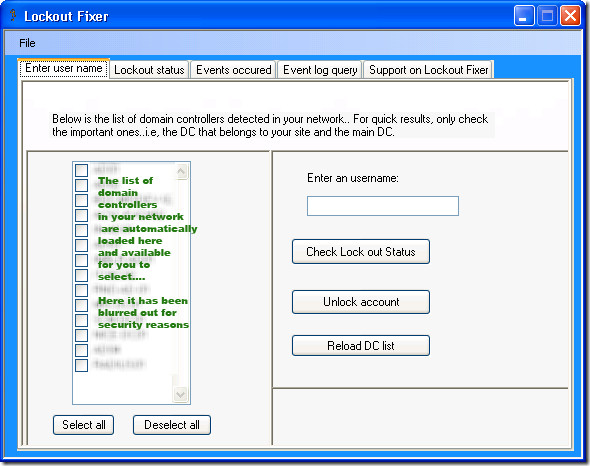 You can select the appropriate domain controller / server in your network, which are automatically loaded in the left side of Lockout Fixer interface. You can put username of account which you want to either unlock or want to check status of. If you want to check lockout time and bad password used regarding any specific user, "Check Lock out Status" feature provides you with such option. If account is not locked and you have tried check lock out status feature, it will query for the last bad password time from logs. "Unlock account" feature unlocks the specified account. If the account already was unlocked but the user didn't log in, it will still have the locked value in the user's account. In that case, unlocking the account will simply clear that value from the specified user.
Event log query feature can be used when you want to check all the logs regarding any specific username. You can read out log files containing the events occurred, and event log queries. Developer says that some time it might happen that the software doesn't show the last bad password time for the selected user. It happens in the case when the lockout was recorded prior to bad password or lockout time. In such cases, check the log of 1 second before those bad password / lockout times.
It works on Windows XP, Windows Vista, and Windows 7. Testing was done on system running Windows 7 32-bit OS.