Update Freezer Makes It Easy To Disable Updates For Popular Applications
Most users have this habit of instantly updating their applications whenever a newer version gets released, no matter if it's in beta testing phase. This sometimes can lead to adverse effects, as beta updates are often too buggy and can even drastically decrease your system's performance. A few applications though, like Firefox or Adobe Flash, often prompt you to update to newer versions, and same is the case with Windows update notification balloon that does nothing, but disrupts your work flow. Obviously, we don't recommend disabling the updates entirely, but as they say "Precaution is better than cure", same goes for early updates. So how do you cope with such nuisances? If you've been looking for a way to forcibly block the application update prompts, Update Freezer is probably what you need. This light-weight, application is designed to block auto updates for some of the most popular applications, including Firefox, Skype and Java, as well as tools from Google (Chrome anyone?), Windows updates and Adobe (Air, Flash, Photoshop etc). Since it's a portable application, you can use it while on the go, whether you're at office, vacations or at some place where the internet bandwidth is expensive, and you want to temporarily disable auto updates. Read on for more details.
The application offers a straightforward usage, and all you need is to click Enable and Disable buttons. Launch the application and you will be introduced to its minimalistic UI design. All the supported utilities are listed in the main window, with options to enable / disable their update feature. You can toggle the status for Google, Adobe and Java, only between Enable and Disable. However, Firefox, Windows and Skype offer a few additional options such as Not Set, Notify Only, Automatic, Download Only and Major Only. In addition, you can instantly go back to the default update state by clicking Restore All button present above the main window. It's worth mentioning here that once installed, you can only uninstall the application from within the interface using the Uninstall button. Furthermore, you may click Open Log to view the log file in default text editor. During testing, for some reason, Firefox state was set to Not Set, even though auto update was enabled in the application itself. Moreover, the tool detected incorrect update status for Windows Update.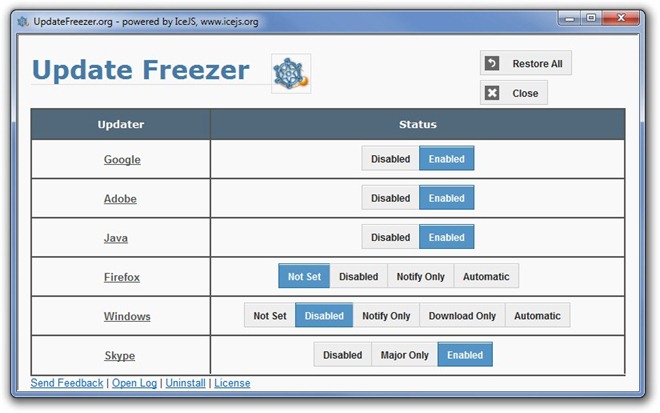 Overall, Update Freezer is an excellent utility to get rid of those annoying update notifications for applications like Firefox and Adobe Flash. As of now, the software list is quite limited, supporting only a few tools and utilities, which has left us a bit disappointed. We hope that developer will add support for all widely popular applications and fix all the bugs we found during the testing, in the next update.
---
Update Freezer is a portable application and works on Windows XP, Windows Vista, Windows 7 and Windows 8. Both 32-bit and 64-bit OS editions are supported. Testing was carried out on Windows 7, 64-bit edition.