ZumoDrive – Upload And Sync Media From Windows Right-Click Context Menu
Dropbox and SugerSync (see comparison) are two services which allow users to upload and access files from any device. And then there is Box.net as well. ZumoDrive is another web-based application which is designed on the same plane to upload your files to a central location and access your content on any of your device (Smartphone, desktop, tablet). Contrasting to aforementioned applications, it offers greater customization and creates a virtual drive (Z drive) in Windows Explorer to upload your files instantly.
Once you have downloaded the desktop client, the wizard will guide you through the process of setting it up. For the first time usage, you need to sign up (free account comes with 2GB of upload limit, while the premium account offers 10GB for $2.99/month) and specify the folders to be linked/uploaded. After you've finished with setting up the account, you will be taken to your online web storage page.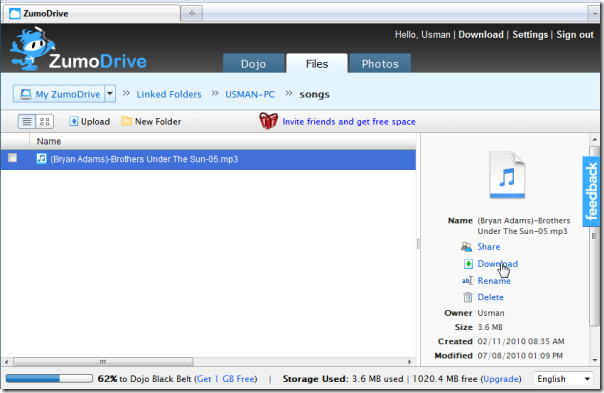 The application sits in the system tray, informing you about the upload status. The system tray right-click menu offers some further option, such as, open ZumoDrive, access web storage, check recently changed files, go to Settings, and so on.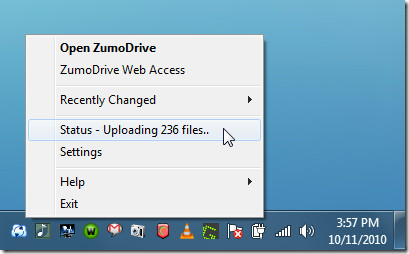 From Settings, you can change/add folders to be uploaded or linked, pause the upload process, upgrade the current plan, change virtual drive letter, and view transfer status in detail, and so on.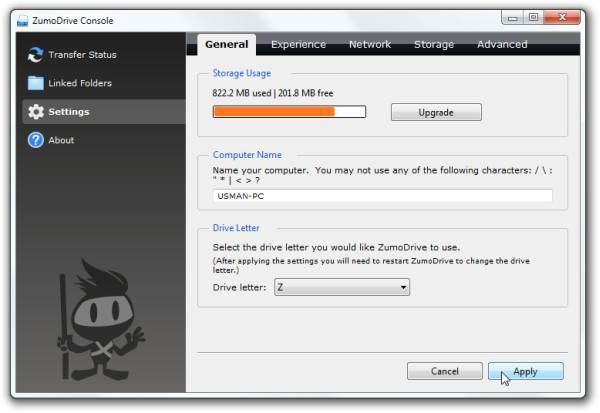 The best part is that it integrates with a set of music and photo sharing application while supporting a list of eminent web-services. Take music as an example, it directly integrates with iTunes in order to organize and listen to your music everywhere. Furthermore it wont require you to download the collection onto local drive, as it seamlessly imports all of your music and playlist into iTunes. Likewise, it supports iPhoto, Picasa, and integrates with Pictures folder to import the photos with a single click. Once imported, all the changes will automatically get synced.
It is further possible to link any folder on your local drive quickly with ZumoDrive. Since it integrates with Windows Shell, you can link any folder up from Explorer right-click context menu.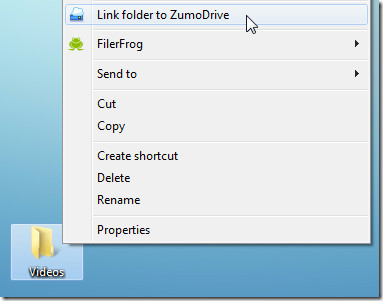 Unlike Dropbox, SugerSync, and Box.net, ZumoDrive was build keeping media collection in mind. It works best in uploading your documents, music, photos, and videos, and accessing it from any device. The desktop client works on Mac OS X, Linux, Windows XP, Windows Vista and Windows 7, testing was done on Windows 7 x86 system. You can also grab the Android, iPhone, and WebOS apps.