URL Snooper: Streaming Audio & Video Recorder
Most of the streaming media websites do not allow a user to download the stream – after all, what is the point of streaming something if the user can save it? While there are many recorder software available for most of the popular services, recording a stream from a rather unknown source can be challenging. URL Snooper comes into play at these times.
The software itself is not a downloader. Its job is to sniff out the URL of the stream. Often these URLs are embedded deep within JavaScripts, behind ActiveX controls and cannot be figured out. URL Snooper accomplishes this by actively monitoring network traffic and identifying all URLs that can possibly relate to streaming media.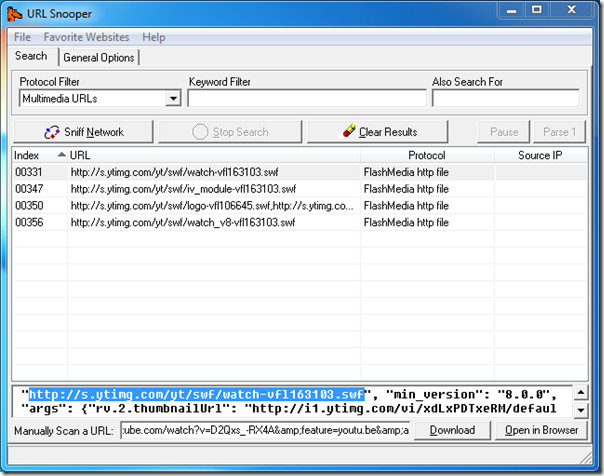 The software primarily runs in 'simple' mode where it presents simple, easy-to-understand options. In advanced mode, more complex but greater control over all aspects is awarded. URL Snooper will monitor all traffic going through the default browser, and also supports a non-default browser for monitoring.
Settings offered in Advanced mode are plentiful, with auto-detection of network adapter, duplicate removal, sniffing engine etc can be configured. The software also supports manual scanning of any URL.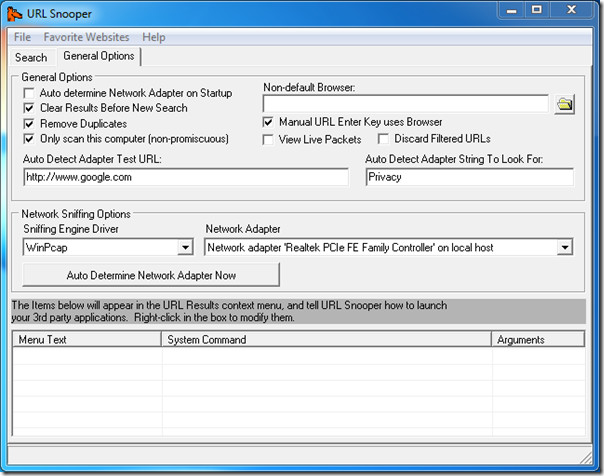 Key features include:
Smart packet spanning – rebuilds packet streams to eliminate split-urls.
Improved identification of protocols, duplicates, and url arguments.
New dynamic URL filtering keywords.
Improved context menu support, drag and drop file searching.
Includes recording hints and website links.
User customizable browser selection and favorites menu.
The program works with all versions of Windows, including Windows 7 (where we tested it).