Use Dropbox To Make Files Public In Two Clicks
Dropbox/Public is a free tool that allows Dropbox users to upload any file or folder and make it public in just two click. Suppose you want to share a file or folder with your friend over Instant Messenger(IM) or want to share a file with other users on the forum quickly.
In this case you can use Dropbox/Public to quickly upload your files and folders to Dropbox Public folder in compressed ZIP archive. When the files and folders are uploaded, the link to access them is automatically copied to your Windows clipboard, thus the user only has to paste it and start sharing it with friends.
It can integrate in Windows context menu, thus allowing users to quickly upload the files in only two clicks. When you run dropbox-public.exe, it will ask if you want to add it in "Send To" explorer context menu, select Yes to add it and select No to remove it.
Now simply right-click the file(s) or folder(s), go to Send To, and select Dropbox-Public (zipped) or Dropbox-Public.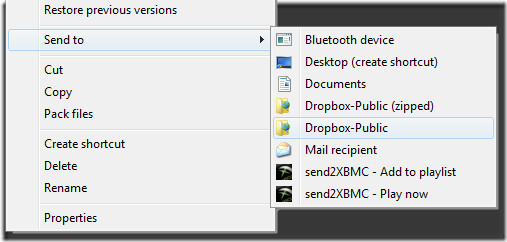 I would recommend choosing Zipped since it will help reduce the overall size. It will then ask you to enter your Dropbox database ID. What is database id? It is explained in the dialog window screenshot below.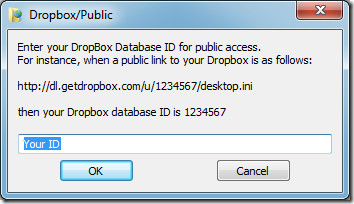 Once you enter it, choose the Dropbox/Public folder. In this folder the file will be saved and then automatically get uploaded to Dropbox. When the upload is complete, you will be notified about it via the system tray icon.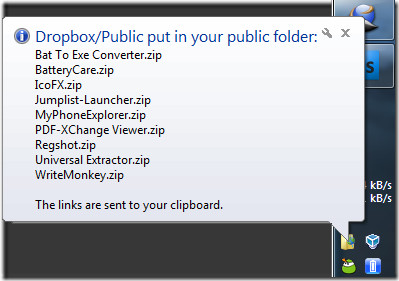 It's that simple. This app makes sharing more easier and gives Dropbox users an edge over other services.
This tool is developed by an independent developer and is not affiliated with Dropbox in any way. For compression it uses Info-Zip. It works on Windows XP, Windows Vista, and Windows 7. Enjoy!