Use Global Hotkeys To Control iTunes With iTuneskeys
iTunes is a powerful media player, used for playing, downloading, and organizing digital media files on a computer. It is also used for complete management and related operations for iPod, iPhone, iPod Touch and iPad. iTunes can also connect to the iTunes Store, which allows users to purchase and download music, music videos, TV Shows, audio books, games, ringtones and more. Since it's inception in 2001, it has become one of the most popular media apps for Mac, Windows and smartphone users. iTunesKeys is a system-tray utility, which lets you control iTunes with global hotkeys or via the tray icon menu, which runs in the background. You can control your playback actions, such as play, previous track, play, pause, stop, next, rewind and fast forward, adjust volume and rate items. You can even create a customized rating system for your tracks. iTunesKeys provides display track info on song change, including artwork, launches iTunes automatically and closes it at exit.
During installation, iTunesKeys provides you with the option to install the restore tray icon for the application. This option is disabled by default, if you would like to use this feature, then make sure that you check this option during the installation process. Once done, simply launch iTunesKeys and it will open both the system tray menu, as well as iTunes. You can view iTunes or track info, hide the tray icon, move to previous/next track, play, pause, stop tracks, increase, reduce volume, toggle shuffle, rate items, create custom rating system, and exit (iTunes and/or iTunesKeys) from the system tray menu. To configure Global hotkeys, go to Options.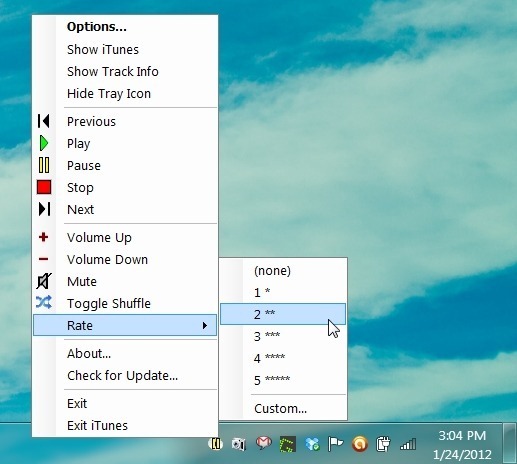 From here, you can edit the attributes of the Global hotkeys, so that you can quickly mange your iTunes tracks. For example, you can select the display time for tracks, select a display position, enable/disable system tray icon for a specific key, etc.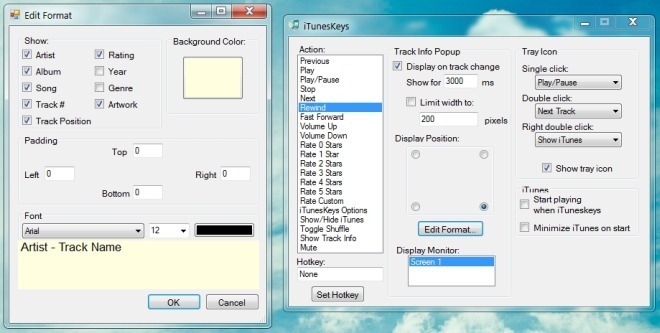 The developer has mentioned that many users have complained that iTunesKeys is crashing for them. For this reason, he has provided instructions for running it with the /regserver option, which seems to fix this problem. For example, if iTunes is installed in "C:\Program Files\iTunes\iTunes.exe", head over to Start –> Run and enter the following:
C:\Program Files\iTunes\iTunes.exe /regserver
Hit OK, and things should be working. During testing, we did not experience any crashes by running iTunesKeys from a desktop shortcut and other conventional methods. iTuneskeys works on Windows XP, Windows Vista and Windows 7. It requires .NET Framework 2.0 or higher, which is automatically installed for Windows XP users.