Use Hotkeys To Position And Resize Windows With FP-WindowManager
Are you dealing with multi-monitor setup and need an application windows management tool which can optimize both size and position of active windows? FP-WindowManager offers you just that. It is a small open source window manager which lets user configure a list of pre-registered hotkeys to make use of multiple types of window management features, including, restore original size and position of active window, set window on top, stack all active applications, increase/decrease height & width, arrange windows side by side and so on. Since it works through numerous hotkey combinations, you have option to change hotkeys and add your own to prevent any sorts of conflicts.
Usage requires nothing more than to configure hotkey. To understand the shortcut combinations, click Help to understand the characters involved in combinations. To edit the hotkey, select one from the list, enter new combination and click Save. Once all the hotkeys are configured, click Close to minimize it to system tray.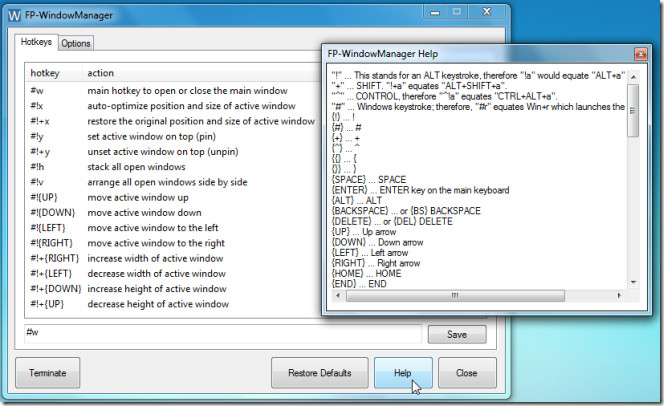 Now you can verify the configured hotkey combination by using it on any active window. The screenshot shown above displays all the windows management functions it has to offer. It works on Windows 2000, Windows XP, Windows Vista, and Windows 7 (both 32-bit and 64-bit systems are supported)