Use Keyboard LED Lights To Monitor Network Traffic
If your keyboard has some spare LED lights, i.e, you rarely use them, then Network Lights is an app for you. It is a clever app that takes over the keyboard LEDs and then use them to show your network activity, i.e, incoming and outgoing traffic.
To be a bit more precise, the Scroll Lock indicator will be used to show the upload while the NumLock indicator will be used to show the download activity. They will blink every time there is a network activity, continuous blinking means that upload/download bandwidth is being used.
It is a portable utility and sits on the system tray and allow users to tweak the settings. You can also view the Network Statistics for a more detailed view.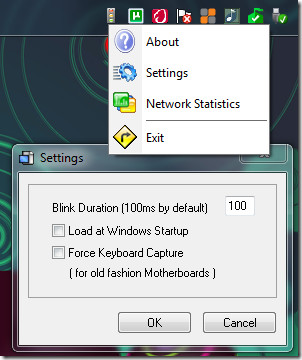 It is not a must-have tool, but could be extremely useful to some while fun for others. With this little app you can convert your not-much-used feature of the keyboard to full use.
It works on all versions of Windows. Enjoy!
Want us to review a software? Go ahead and submit it via the Submit Software page.