Use Mouse Gestures To Perform Tasks In Windows Explorer With Gest
Gest is a portable tool which brings mouse gesture support for Windows Explorer. You can now perform simple tasks by holding down the right mouse button and drawing a few lines which send commands to Windows Explorer. The tasks that you can perform (with assigned mouse gestures)  include, opening a new window, closing the current window, moving backwards or forward, refreshing the page and so on. For user friendly functionality, there is a mouse trail  which adds a colored line to show the path of your cursor when the right mouse button is used to perform a gesture. You can also set mouse sensitivity to adjust the responsiveness of mouse gestures. Gest provides precise options to allow adding gesture functionality to specified folders, sub-folders, Windows paths or the entire Windows Explorer.
After launching Gest, access advanced settings from the system tray. You can set custom gestures from the Gestures tab for each available function. For example, you can set D as a gesture for opening a new window. This means that when you hold down the right mouse button and draw a "D" in Windows Explorer, it will open a new window. After you are done configuring the settings, click Save for the changes to take effect.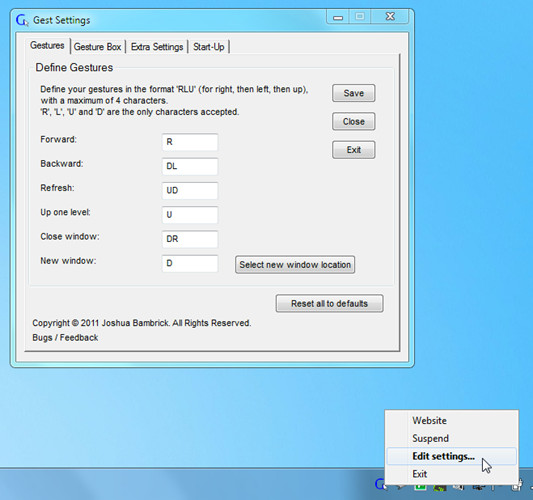 If you would like to change the default settings and apply the mouse gestures on selected directories or Windows paths, click on the Select New Window Location button and choose a folder/path.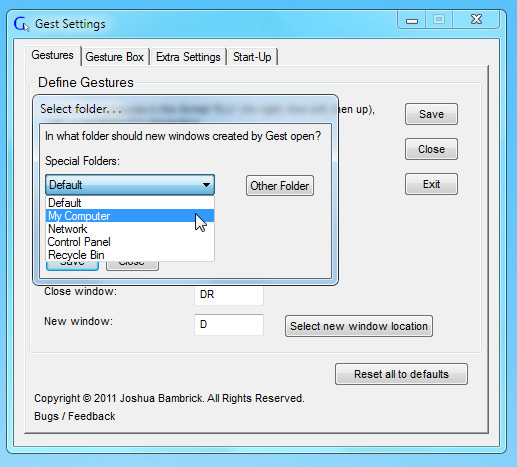 The Gesture Box tab provides the option to set a color for the pop up Gesture Box (as shown in the last screenshot) which indicates the gestures you have already done. You can also select it's preferred location from the drop down menu in the Gestures Box tab.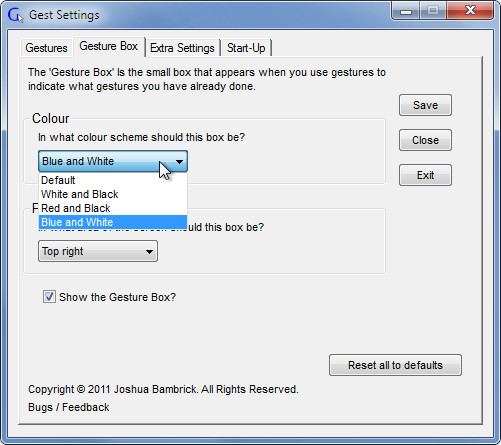 The Extra Settings tab is useful for setting the sensitivity levels for mouse movements (when drawing gestures). A higher sensitivity level is recommended on lower resolution screens.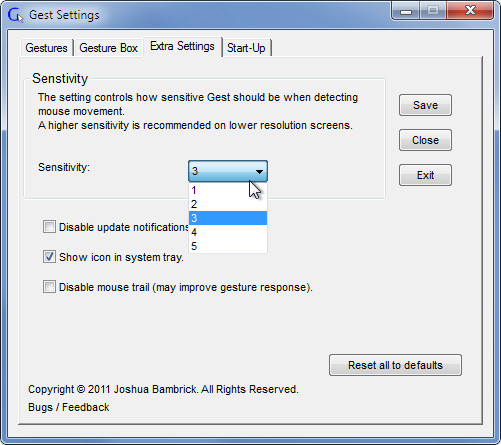 Once the settings are configured, you can apply gestures via the right mouse button to send commands to Windows Explorer.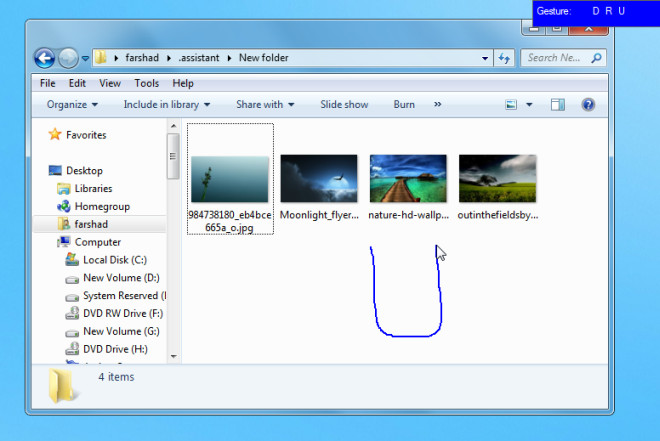 Gest works on Windows XP, Windows Vista and Windows 7.