Utopia Documents: A Specialized PDF Reader For Research & Academic Papers
While writing research papers, we often need such an integrated interface that can bridge the gap between online and offline content. There are various tools available that allow you to manipulate PDFs, explore an article's content, or relate it to dynamic content, online. With Utopia Documents, you can benefit from all these features using a single interface. Working with documents has been made effective by incorporating a pager, figure browser, sidebar and search facility. Similarly, multiple viewing styles (structure, sequence or plot view) has been made friendly for analysis. Dynamic content enhancement aims to give life to the static content by filling in useful online tools wherever needed. With support for multiple data sources (like Altmetric, Mendeley, CrossRef, Sherpa), scientific sources (like BJ, Dryad, SciBite, RSC, AQknowledge) and annotators (like GPCRDB, NuclearDB, Reflect), Utopia Documents promises a truly unique learning experience.
As soon as the installation completes, you can open any PDF file either by drag-and-drop or the file menu. When you open the document, it automatically detects content relating to the online tools supported. Moreover, interactive buttons at the bottom left corner modify the viewing experience for the better. A consistent sidebar element is CrossRef, which instantly matches the document online to provide a formatted citation for the article at hand supporting multiple styles like apa, Harvard, IEEE, etc. Moreover, Mendeley brings all related articles to view for a complete research and analysis. The toggle pager button (or View >> Toggle pager) enables a preview pane at the bottom of the window for better navigation. The toggle figure browser extracts all figures from the document displaying it in the form of an interactive navigation pane at the top of the window.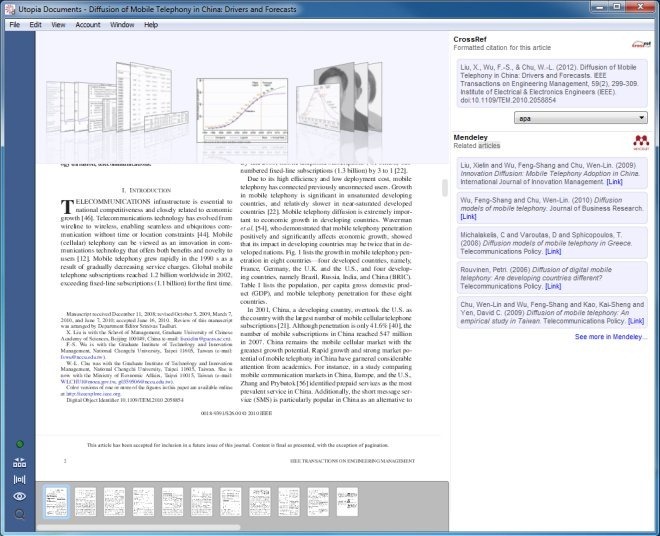 You can also add comments and generate discussion threads based on specific keywords occurring within the document. To achieve this, click comment in the floating window, which appears upon hovering over the selected keyword. This requires you to sign in for better documentation of the activity.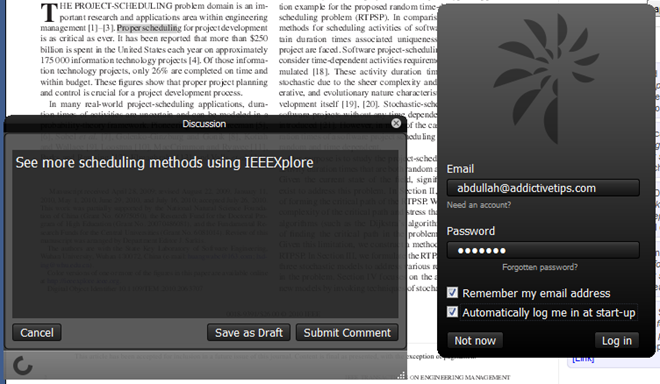 To create a new account, you must click Need an account in the sign-in window, which would then ask you to enter relevant user information including your name, image, email and bio to maintain a meaningful profile.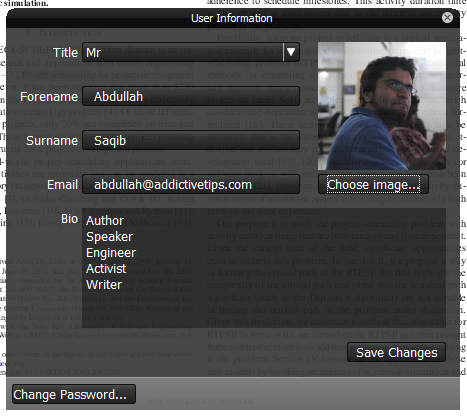 Depending on the article type, relevant tools appear in the right sidebar. Based on the keyword selection 'antennas', articles from PubMed, Wikipedia and AQknowledge will appear instantly.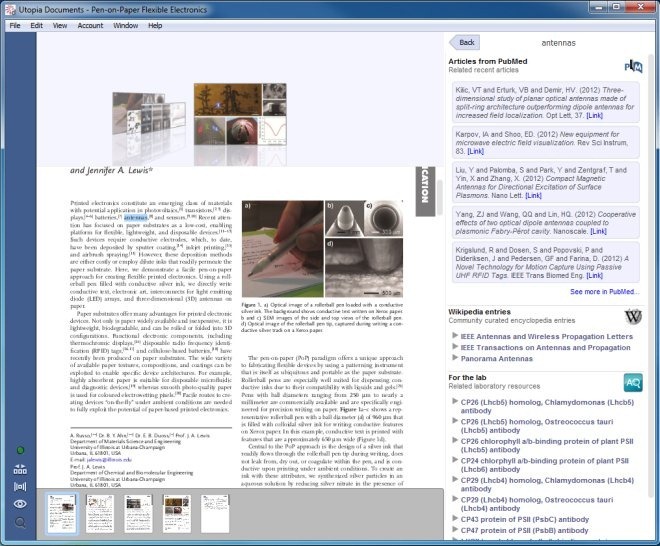 Similarly, the Altmetric data source highlights the social media value of the document including the number of tweets and shares in various websites.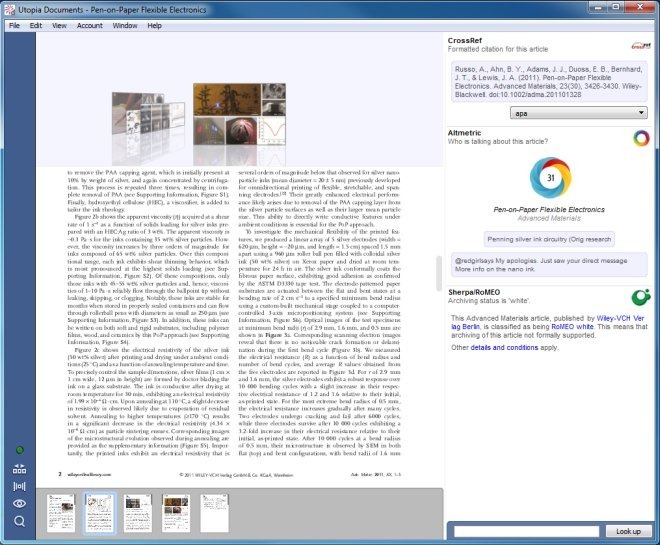 All in all, Utopia Documents is a meaningful and integrated way for researchers to gather and analyze data. We tested this utility on Windows 7, 64-bit edition. It also supports Mac OS X and Windows.