View, Analyze, And Filter CSV, TSV, XML Data Files With Cobynsoft's Data Viewer
Cobynsoft's Data Viewer is an all-in-one data manipulation program written to handle most commonly used data file formats, such as, CSV, TSV, XML, SQL view files, etc. Unlike other data file viewers which don't give full control over data sets, Cobynsoft's Data Viewer lets you perform numerous actions over the files; you can open and edit files, modify data structure, analyze the data flow, filter data values and most importantly export and publish them in Excel file formats (XLS, XLSX,), web archive format (HTML), RTF and in PDF format. Additionally, it allows users to not only print modified versions of data files but let them tweak with print view as well. The Print Preview feature holds all the basic tools to make changes to data file header, footer, vertical lines, margins, and width of the data set while showing live preview of changes you make to document.
Moreover, you have option to send either original file to recipients via email or first convert it to required format and then attach it with email message. Before printing the document, you can change background colors and overlay text and image watermark. The main interface includes a tab-based data file viewer to edit multiple files simultaneously. Apart from filtering data, you can establish connection with MySQL database to run query scripts.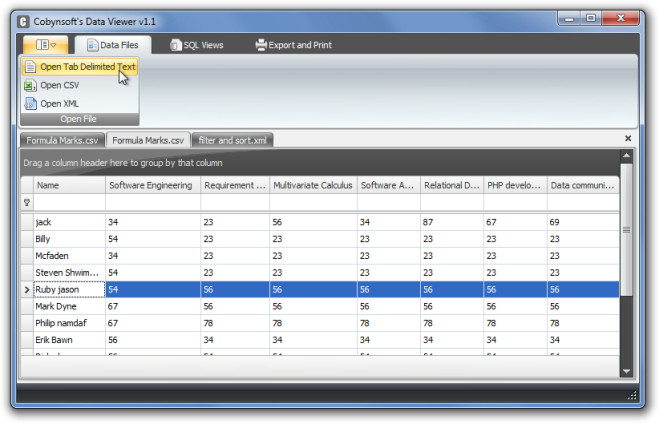 The Data Files tab lets you open tab separated text files, CSV and XML files from any local location. Once inserted, it shows the file in main window. Apart from modifying main content, you can also change the column and row headers positions. To quickly sort columns data by ascending and descending order, simply click on column header. A small filter pull-down is available to filter data by its contained data values and other conditions, such as, empty, non-empty, or by any given condition.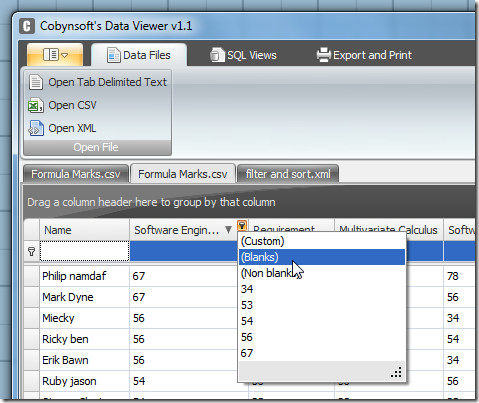 To create a new data filter condition, click custom to bring up Custom AutoFilter window. Here, you can create a custom data filter by using OR/AND logical operators.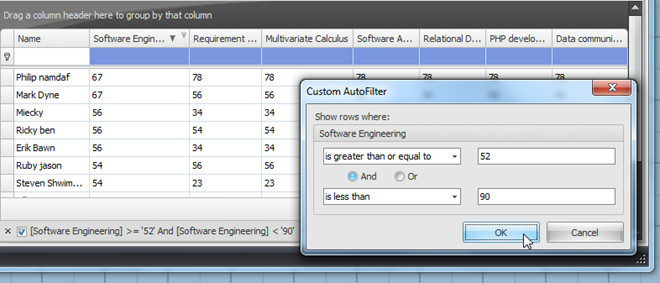 The SQL Viewer requires users to first specify connection string to establish connection with database. Once the connection is established, open Query window from SQL Query to write and run queries.

Under Export and Print tab, you have options to export the data file into PDF, XLSX, and HTML format.  The Print Preview feature takes you to Print layout settings window where you can remove document headers, filter data for printed copy, apply text and image watermark, set margins, share data file with others through emails and so on.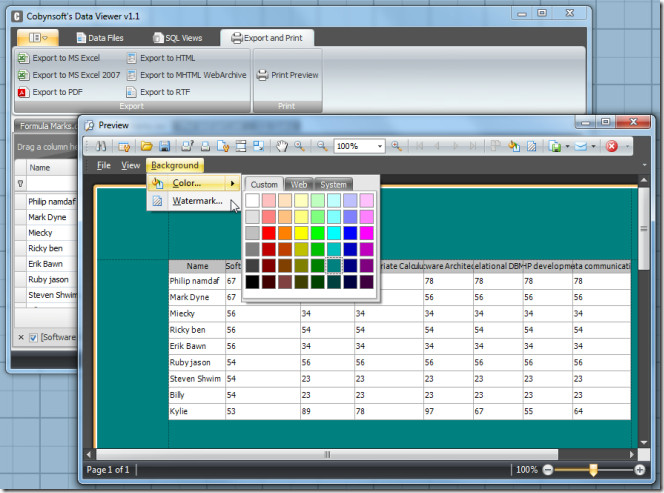 Cobynsoft's Data Viewer works on Windows XP, Windows Vista, and Windows 7.
Download Cobynsoft's Data Viewer