View Detailed PC Hardware Information & Benchmark It With HWM BlackBox
There is no shortage of system information tools out there. Most of them however, are either paid or not as heavy handed with features as their paid counterparts. And then there are some that simply fail to deliver on what they promise. Despite that, we have come across tools like Speccy that have successfully impressed us in the past. HWM BlackBox is another such program that not only supports a slew of features, but presents them in a very well-organized UI as well. The tool basically scans your computer's hardware and displays the information neatly organized under different tabs to help you quickly get the right information about your hardware when you need it. It also comes with an integrated benchmark utility to quickly assess your system's overall performance on a scale of ten.
The interface contains six tabs at the top for Processor, Memory, Graphics, System, Benchmark, and About information, and all of them are pretty much self-explanatory. One you launch the tool, it scans your machine's specifications and then provides a thorough review of your CPU, RAM, GPU, motherboard, I/O devices and so on. Another noteworthy feature is its ability to detect multiple processors, provided your system supports them. CPU and GPU overclocking has always been a favorite topic for gamers, and OC enthusiasts will be delighted to learn that BlackBox also displays both the stock and overclocked frequencies of your processor. The Memory and Graphics tabs are as detailed as the Processor tab. The tool digs deep into your CPU, RAM and GPU, and shows all the relevant information including temperature, bus speed, clock rate, model, cache size for all cache levels etc.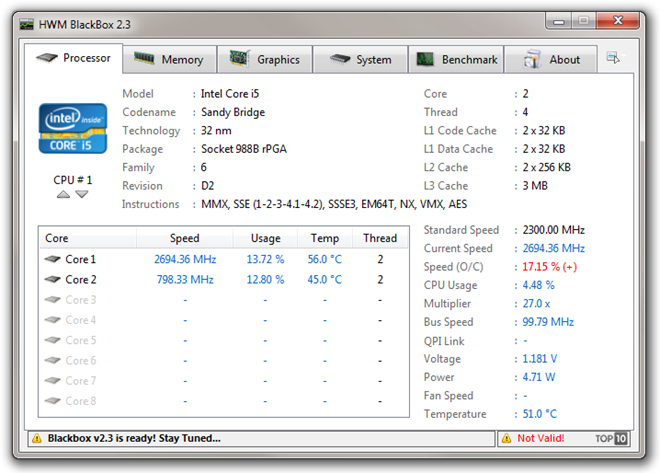 The System tab displays the information pertaining to other major components installed on your system such as hard drive, motherboard, optical drives, and network devices.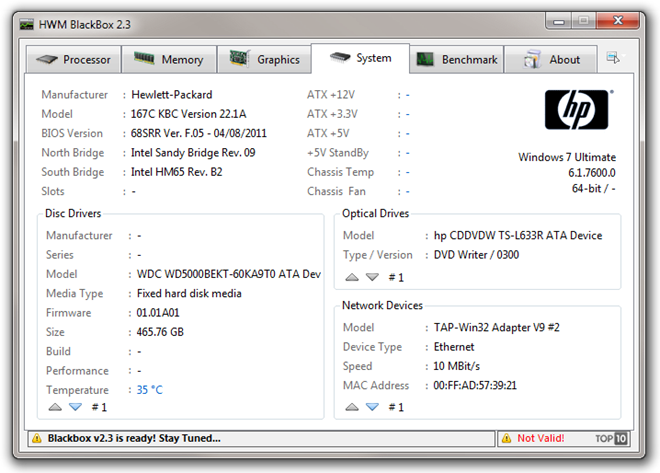 The Benchmark tab is where things get more interesting. You may have peeked over your hardware specs but if you're unsure about the overall real-world performance, it's time to benchmark the components. Simply hit the Run button and the system will undergo a few tests consisting of processor, memory and graphics intensive tasks as well as read operations on the primary hard drive. Once finished, the tool displays the overall performance of each component on a scale of ten.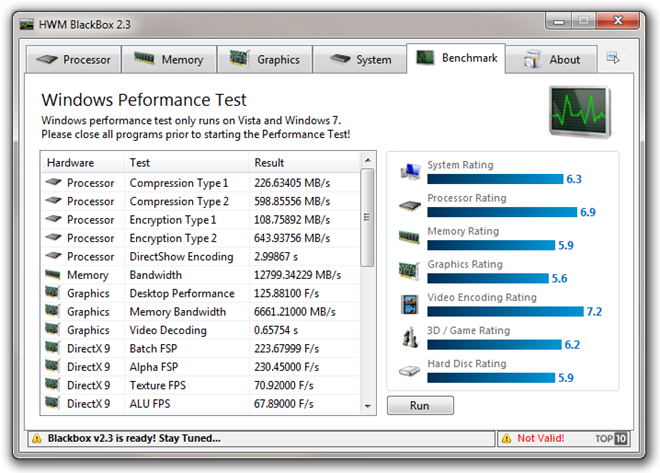 Clicking a miniscule button next to the About tab pops up a context menu from which you can take screenshot of the tool itself, export data in plain text or XML format, change the refresh rate for updating the information presented, modify the proxy settings, see usage statistics, change the language etc.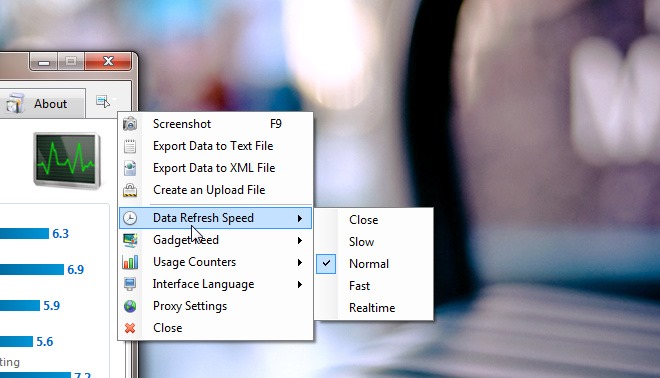 HWM BlackBox is a portable application and works on Windows XP, Windows Vista, Windows 7 and Windows 8.