View, Edit, Paste And Manage Text & Image Entries With Ace Clipboard
Previously, we have covered a lot of clipboard managers, including Clipboard Text Recorder, ClipX and Free Clipboard Manager, that have their distinct functionality like managing clipboard through hotkeys and saving screenshots in clipboard. Ace Clipboard is another such clipboard manager that lets you copy and paste text, capture and edit screenshots, as well as access and open files, folders and URL links directly from the clipboard manager. The pasting process doesn't require you to access any menus or learn any hotkeys; you can paste text, URLs and images just by clicking on their name. Ace Clipboard has the capability to save up to 25 clipboard entries. Read the details about Ace Clipboard after the jump.
Click the system tray icon of Ace Clipboard to access its main interface. When the clipboard is recording, everything that is copied can be viewed and edited using the clipboard manager. Move the mouse pointer over an entry to view the relevant buttons like Net (to open URLs in browser) and Open (to access local folders). To paste something form Ace Clipboard into a document, click the relevant entry to paste it where your cursor is placed.

Right-click an item and click Edit to enter the Clip Edit dialog box. It allows you to adjust different settings of the selected text such as Upper Case, Proper Case, Spaces, Word Wrap, HTML, etc. You can also change the highlight color of the selected entry. Click Save when done with the adjustments.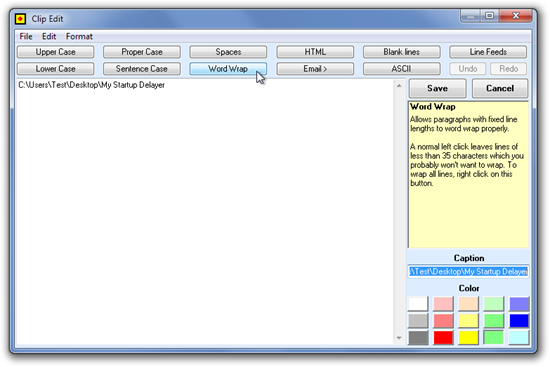 Ace Clipboard allows you to capture entire screen, active window and graphics from other applications such as browsers. Press Print Screen to capture entire screen and Alt + Print Screen to capture just the active window. In order to capture graphics from your web browser, right-click on the image and select Copy. The application also hosts a Graphics Editor that allows you add text, clip art, lines and lets you resize and rotate the screenshots.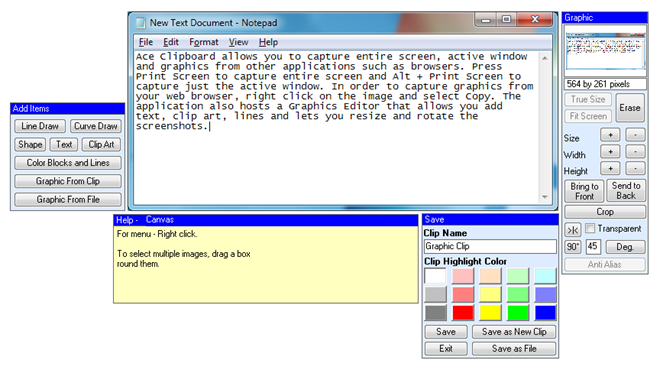 Hover the mouse over an entry to enable the preview window in the top right corner of your desktop screen. It displays shows the first several lines of a text entry or the thumbnail of graphic image.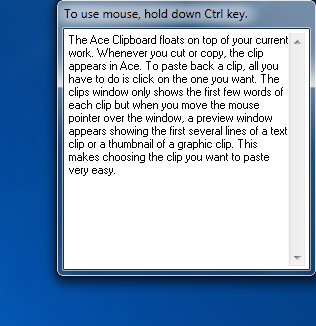 Click Tools menu at the top and select Options to configure options related to application startup, pasting methods and activation. Details for each option is displayed in the lower half of the window by hovering the mouse over it.
Ace Clipboard works on Windows XP, Windows Vista and Windows 7.