View Folder Size Related Information With DiskSpaceExplorer
Finding out which folder on your hard disk is taking more space and seeking out for the enormous sized folders is a bit hard especially when you're are managing lots of data. Minh's Free DiskSpaceExplorer is portable utility which enables user to view all folders and underlying sub-folders in tree structure with details of each folder's size.
Once application is launched, you need to specify the disk drive to let it start scanning, it will list down the folder tree structure allowing you to expand/collapse the list to view size of each folder/subfolder. The size-related information is shown on the right side of the interface under two categories; the current folder and including all sub-folders.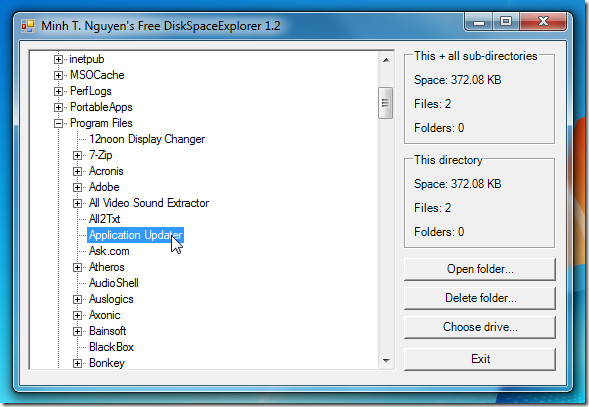 You can also specify the drive letter to list down all the folders in it or specify folder to view its size-relevant information. If in case you want to delete one hefty folder, you can do so from the main interface.
In a nutshell,this application lets you view folders size-relevant information and can remove specific folders promptly. We have also covered an awesome application namely Disk Space Fan which offers aesthetic visuals to analyze which folder is taking more space.
It runs on all Windows based OS, we tested it out on Windows 7 x86 system.
Download Minh's Free DiskSpaceExplorer