How To View Game Performance With The Game Bar On Windows 10
Buying and assembling expensive hardware to make a gaming PC doesn't always guarantee the best gaming experience. There may be a certain price tag that, once you cross it, it will probably give you a PC that can run games well. That said, if you've build a gaming PC, or you've bought one and want to know how well your games are running you normally have to turn to third-party benchmarking apps. Microsoft is making it easier to view game performance on Windows 10 with a new addition to the game bar.
This feature is currently part of the Windows 10 Insider Build 17704 and available only to users on the Insider program.
View Game Performance
To view game performance for a game, you need to run it. Once the game is running, tap the Win + G keyboard shortcut to open the game bar. The game bar will look very different from what it does right now. Instead of the bar, you will see an entire control panel that tells you the FPS of the game. It not only tells you the current FPS but it also graphs it as you play the game. The game bar will give you the average FPS for the game, as well as how much CPU, GPU, and RAM it's using. Each one has its own graph that can tell you how much of each resource the game has been consuming.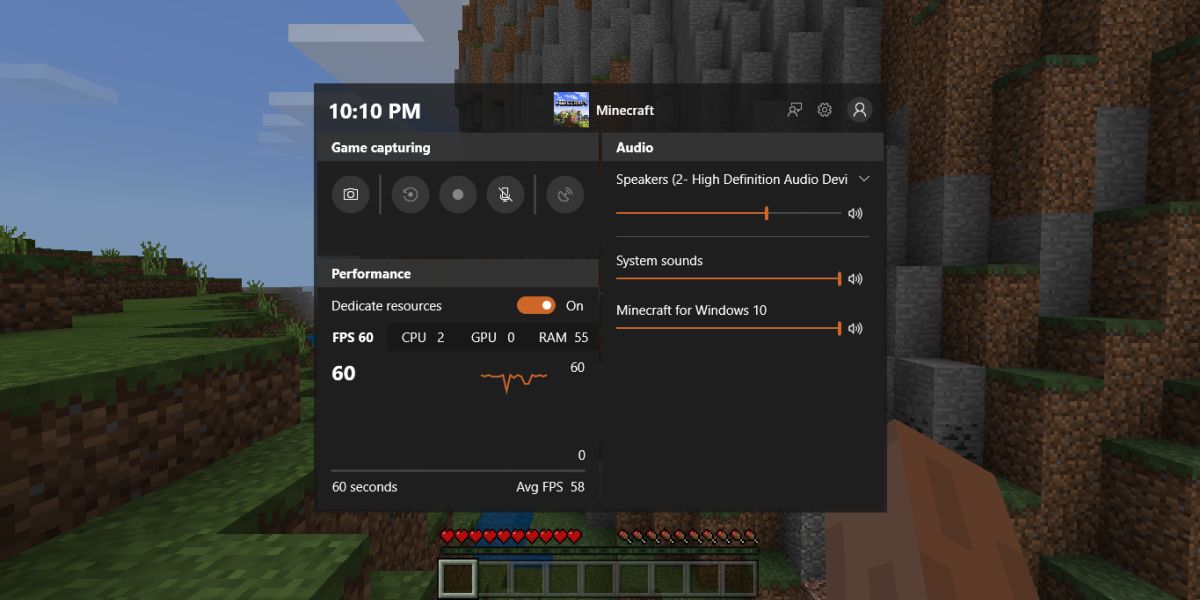 While this is a great addition to the game bar, it goes without saying that the Game bar isn't really a bar anymore. It's a big floating window that obscures most of the game. You can still record, screenshot, and broadcast from it. The controls are all there but you are not going to want to open it to do all those things because it obscures the game. Chances are that this version of the Game bar will go through a few iterations before it rolls out to users on the stable channel. This is the very first build that the feature has been made available on so hopefully it's not going to look the same when it's out of beta. There ought to be an option to turn off the performance monitor for users who don't want it.
The performance monitor isn't poorly developed. It's not just graphing the FPS for a game; it's also giving you CPU, GPU, and RAM usage. There's even a switch to enable and disable dedicated resources on the fly. Maybe Microsoft will even add a way to store the data beyond a single session.