View Google Calendar Events Offline With Calendar Client
Google Calendar Client is a small open source desktop application which acts as an events information retriever, enabling users to view all the past and coming events offline without having to connect with internet. As it name suggests, it constantly syncs with Google Calendar(s) to display the dates of important events, including national and religious holidays, etc. By default, it retrieves information from only two Google Calendars, however, you can add as many calendars as you want to fetch diverse type of events information. Furthermore, a small calendar is integrated within the application to let user easily browse through events' dates.
After installation, it will sit in the system tray and start fetching information from Google Calendars – San Juan and US holidays. From system tray menu, click Preferences to add, delete or edit existing calendar's information and to change event reminder's time.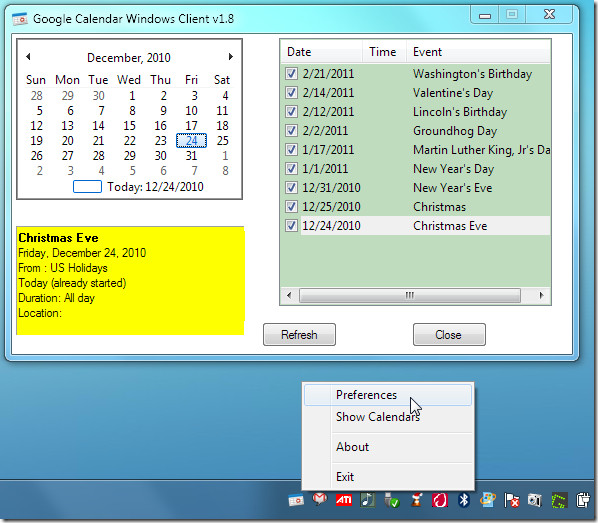 From Calendars, you can edit pre-defined information or add a new calendar events only within specified span of time.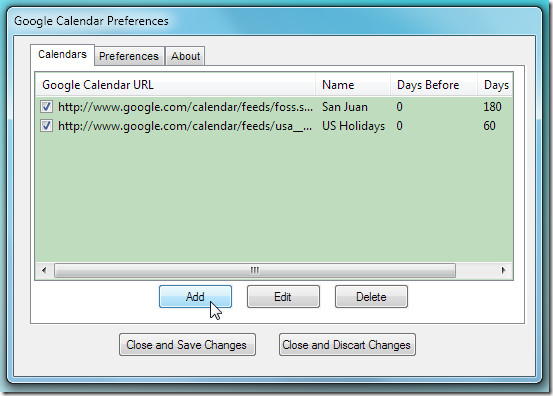 All calendar settings and event's information are saved in GoogleCal.dat. It's must be noted here that in order to view saved calendars events on other systems, DAT file along with main executable file must be ported. It works on Windows XP/Vista/7. Testing was done on Windows 7 x64 system.
Download Google Calendar Client