view3dscene Is Cross-Platform Tool To View & Interact With 3D Models
2D to 3D transition opened up a new gate in the graphics designing pipeline. Not only does 3D models save a lot of prototyping and designing costs, but also let graphics designers bring various imaginations to life. 3D models have become so mainstream now that they are used in quite every field. From designing a house to modelling a car. Back in December of 2011, we covered Sweet Home 3D, an open source interior design application that lets you design a complete home and place furniture on a 2D plane, with a real-time 3D preview. The application surely was quite feature-laden and one of the best of its kind. However, if you have already got a 3D model, and only want to view it, you can use view3dscene. It is an open source browser and viewer for VRML, X3D and other 3D model formats. Other than viewing 3D models in window mode, as well as full screen, it also allows you to play 3D sounds along with the models. The application has a built-in screenshot capturing feature to take screenshots of a loaded scene. Some of the supported file formats are VRML, X3D, Kanim, Collada, 3D Studio 3Ds, MD3, Wavefront OBJ, and Videoscape GEO.
The application has Open (load a new 3D model), Examine (examine the current 3D model), Walk, Fly and Collisions buttons on the main interface, while File, View, Navigation, Animation, Edit, Console and Display menus allow you to access extended options. Information about the loaded animation is displayed on the bottom-left corner.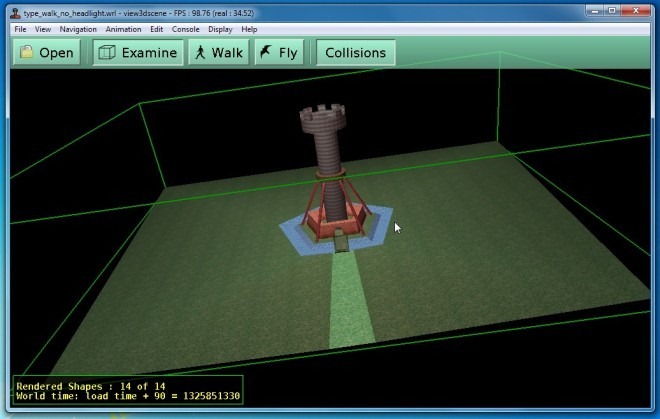 The Navigation menu allows you to Jump to Viewpoint, change interaction method with the model from Examine, Walk, Fly and None, Adjust Walk, Fly Settings, etc.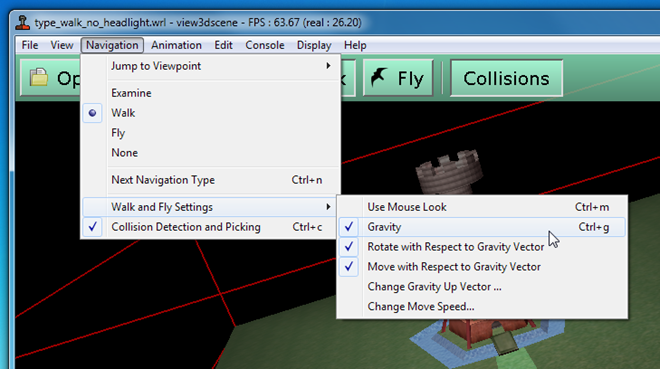 The View menu lets you adjust viewing options such as Fill Mode, Screen Effects, Lightning, Shaders, Textures, Blending and other details of the selected 3D model.
Under Display menu, the application also has a built-in screenshot feature, allowing you to take screenshots of the loaded model. You can capture image screenshots for still 3D models, or capture frames for animation.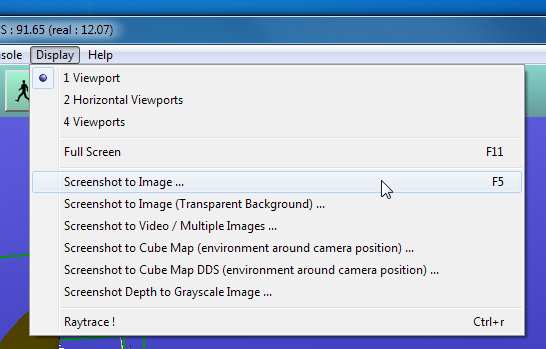 The application is simply an amazing solution to do view all kinds of 3d models in the supported formats. It does so much more than what is described in this article. For a complete listing of its features, visit the product page. view3dscene is a cross-platform application, and works on Windows, Mac OS X (32-bit only) and Linus operating systems. Testing was done on Windows 7 64-bit.