Visions: 3D Image Viewer With Customizable Layouts & Built-in Editor
Previously, we have covered some very useful image viewing and editing software, such as Zoner Photo Studio (an image browser, powerful editor, viewer and manager with a catchy interface that lets you manage edit and share your photos with ease) and Fast Stone ImageViewer (an image viewer with built in drawing, editing, image comparison etc tools). Today, we have another image viewer for you called Visions, that lets you easily view and search photos, apply effects, create albums, share images, create postcards, photo frames, birthday cards etc., all within a 3D interface. The application comes with layout configurations that you can tweak to give a fresh feel to the interface. More after the break.
During installation, make sure you uncheck the installation of different toolbars bundled with the Visions setup in order to avoid getting unwanted software in your system.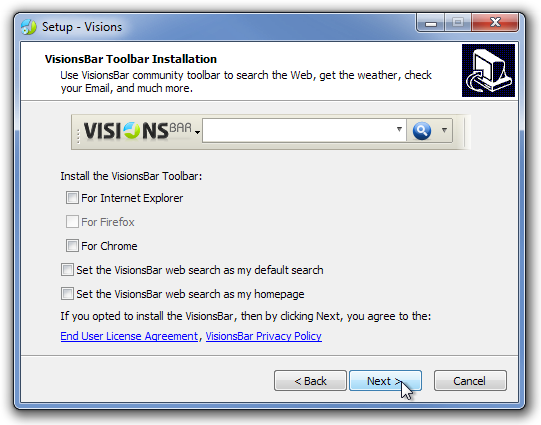 When using Visions for the first time, you are asked to choose the image folders that you want to be included in the application. Since, it loads images from each folder and sub-folder in to a separate pane, it might take some time for the 3D view to get ready. However, the application will not take such a long time whenever you run it after that, unless you add new image folders.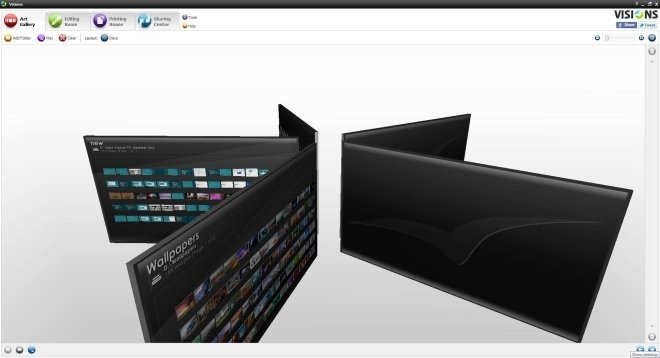 You can navigate between the different panes using just your mouse; you can scroll up and scroll down to zoom in and out of the image library allowing you to view the images displayed inside the panes or zoom in to have a single image in full screen mode. Moreover, you may use left click while holding Space key, and then move your mouse to change the camera angle.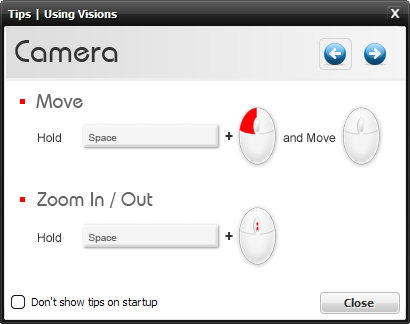 The Layout drop down list at the top allows you to choose between Cylinder, Colosseum, Horizontal Wheel, Vertical Wheel, Discs and Carousel layout styles.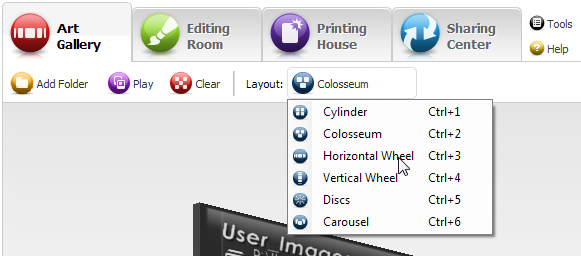 The 4 tabs at the top namely Art Gallery, Editing Room, Printing House and Sharing Center let you access 4 different features. The Editing Room allows you to apply different effects and perform basic editing functions, such as Crop, Resize Rotate etc. The Printing House lets you create Postcards, make Photo frames, Birthday cards, Romantic cards, etc, while the Sharing Center allows you to upload the images to Flickr.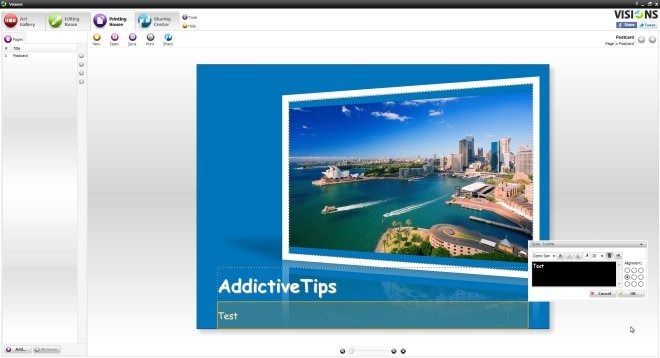 The Preferences menu (accessible from Tools) lets you change settings related to image View, Edit, Create, Share and Backup features. The General tab includes application, themes and email account related settings.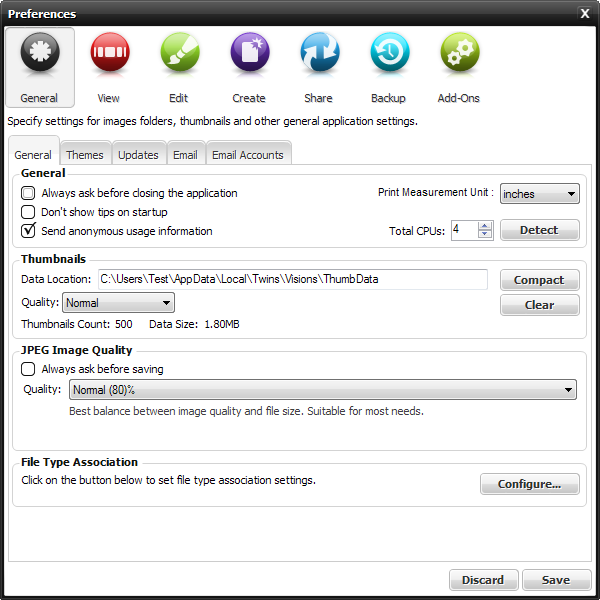 Visions works on both 32-bit and 64-bit versions of Windows XP, Windows Vista, Windows 7 and Windows 8.