Voralent Antelope Optimize JPEGs & PNGs In Bulk, Delete EXIF Data
When you save an image file, it's easy to just accept your default image settings, and click File > Save to get what's been factory set. But that probably means you'll always be using the same file compression, and unless you've tuned this to an optimum level, your final images could end up being ten times larger than they need to be. Fortunately, image optimization is not an unusual concept and  various apps let you compress the size of your images. But working with multiple images can be tedious too. If this is a problem you often face, Voralent Antelope is a beautiful Windows application that tries to simplify this process by allowing you to optimize JPEG and PNG files in batch. It sports simple drag and drop usage, allowing you to easily add images to the application and optimize them in no time.
Voralent Antelope's elegant interface is easy to navigate. When launched, you can point it at a selection of images (PNG and JPEG, the two formats it support), and it can quickly recompress them all with a lower quality setting. Images can be added via simple drag and drop. Once added to the application, it displays some relevant image information about the item such as file name, format, size and path. When the image is being compressed, the new size and delta values are also displayed. To compress an image, you can hit the large Play button at the top left.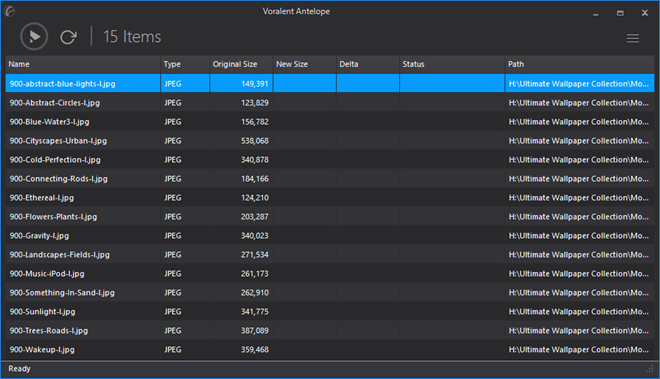 Generally, when you're looking for a way to compress image(s) using third party software, you need more control over the output. And fortunately, Voralent Antelope's doesn't disappoint in this regard. Its side bar menu carries a multitude of options which let you specify optimization level as you see fit. There's an option to 'Remove Exif Data' from image, for instance.
Another noteworthy feature is that the optimization settings for PNG and JPEG are provided separately, meaning you can work with both image types and compress them simultaneously. For JPEG, you can also toggle 'Lossy Mode' for additional size reduction.
The only issue I faced using Antelope is that changes are made to original images. Although, it provides option to generate a backup of original images as BAK file, this option didn't work for me when I tested the program.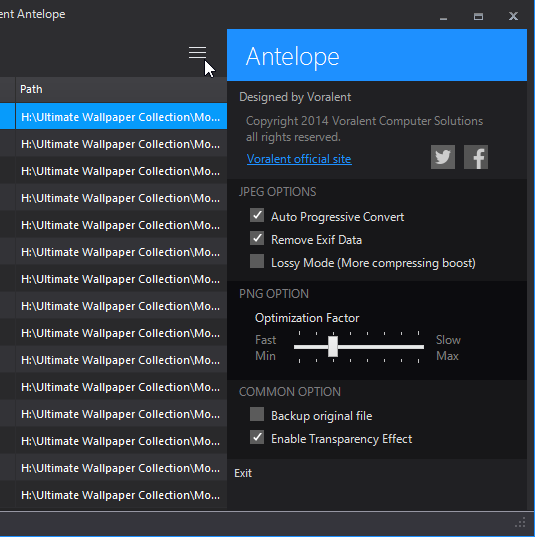 Voralent Antelope works on Windows XP, Windows Vista, Windows 7 and Windows 8.