VSO Media Player: Play Media From ISO Files With Hardware Support
When it comes to media players, the market is so saturated that only a handful brand names such as VLC Media Player, GOM Player, Classic Player, MPlayer and native Windows Media Player are considered as the market leaders, and others barely stand a chance of attracting users. This, however, does not necessarily mean that other media players do not have what it takes to be the best.
VSO Media Player is a lightweight HD media player that not only supports a wide array of audio and video formats, but also enables direct playback from ISO, DVD and AVCHD files. Since playing movies directly from the DVD ROM can reduce it's life, therefore many people have to rip or copy their DVDs to play them from local drive. Hence, playback from an ISO file eliminates the laborious process of ripping DVD or Blu-ray discs, as it takes less time to create an ISO image. Moreover, ISO is a compressed format and, therefore, uses less space than a copied or ripped disc is likely to occupy on your file system.
VSO Media Player supports all commonly used audio and video formats, including AVI, MP4, MP3, MPEG, MPEG 4, 3GP, X-Vid, WM, WMV, ASF, FLC, SWF, etc.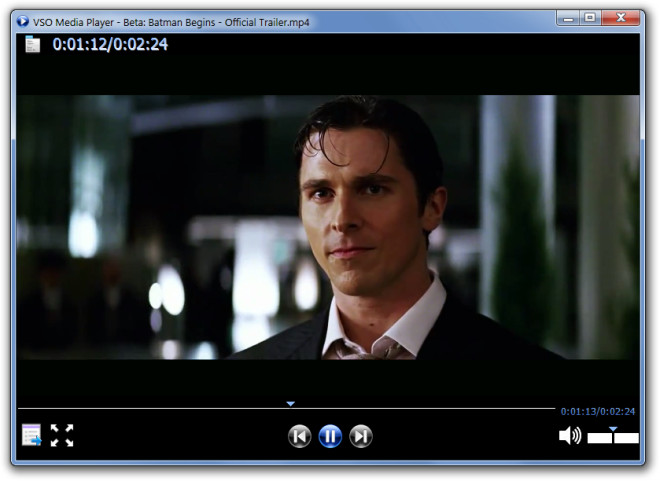 You can open media files, load a playlist, video, audio, subtitles, switch to full screen mode and access VSO settings from the Menu button on the main interface, or by clicking the (+) icon.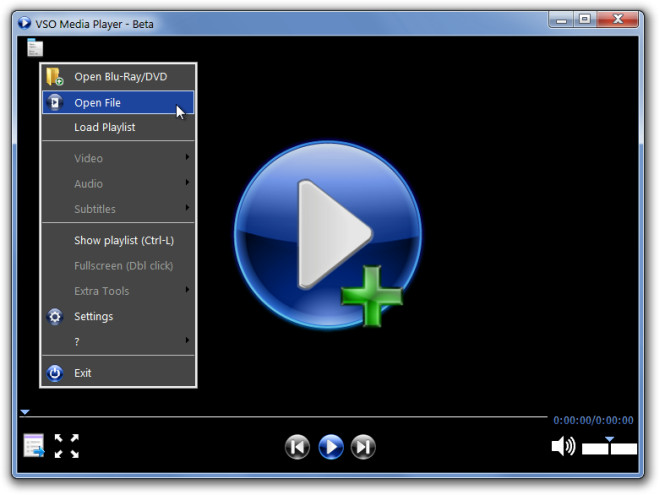 Playlists can be either loaded from an .M3U file, or created by simply dragging and dropping audio/video files onto the VSO player interface. You can shuffle, save, add and repeat tracks to the playlist from the toolbar located at the bottom of the interface (within Playlist section).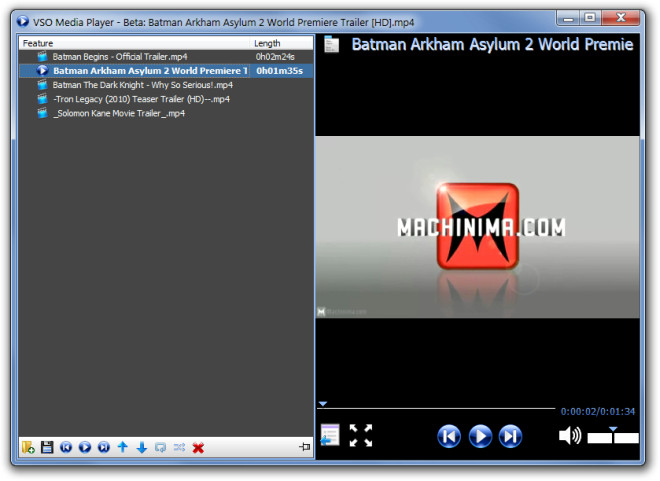 The Settings menu provides a number of tabs for configuring VSO player options, including manual control of playlist menu, automatic launch of VSO Player in full screen mode (from Settings tab),  the option to associate media files with VSO Player (File Associations tab) and interface language selection (Language tab). Another good feature of VSO player is that it supports hardware acceleration. The Advanced tab provides the option to enable experimental hardware acceleration for nVidia graphic cards, enable multi-processor support and to use GDI to acquire better graphic quality than Direct3D.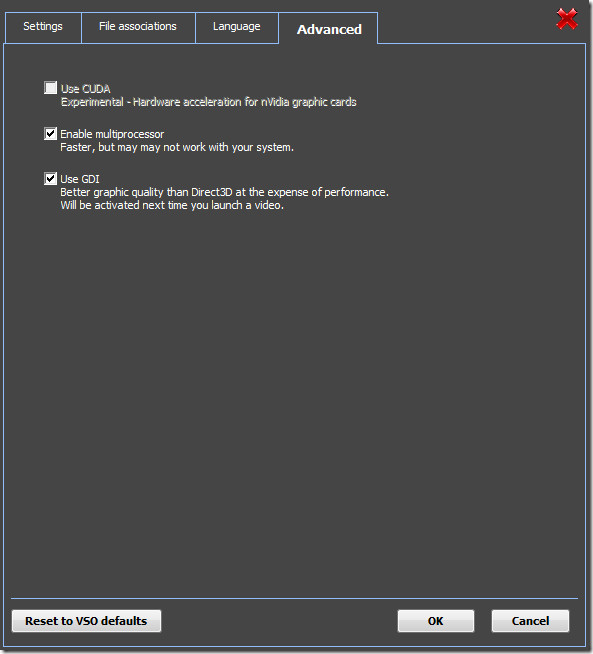 VSO Media Player, despite its rich feature options, does have some issues. If you have GDI (Graphics Device interface) enabled (from Settings -> Advanced tab), it is likely that you may experience application crashes. It works on Windows XP, Windows Vista and Windows 7.