Watch Channels With SecondRun.TV 2.0 Windows Media Center Plugin
Last year in February, Nakodari reviewed SecondRun.tv – a plugin for Windows Media Center to play videos from Hulu, ABC, and other networks directly. It seamlessly integrates with WMC, offering all the essentials to give a best video watching experience. Recently its author updated us with the release of latest version – 2.0. A quick look into new version divulged us a few brilliant improvements, most prominent being an intuitive Channel Builder that enables you to create new channels in SecondRun.tv, it is also possible now to download channels that other users have made open in channel repository.
All the major bugs encountered in version 1.0 beta have been addressed and properly debugged in this version. One most prominent glitch in version 1.0 beta was that users could only watch Hulu videos in full screen, videos from all other supported networks couldn't be watched in full screen mode, all such  problems have been sorted out in this latest iteration.
Note: SecondRun.tv is now a paid plugin that costs $3.99. We are giving away 10 licenses to our readers. More information is provided at the bottom of the article.
The installer package comes with a separate Channel Builder, you have to run both setup files to install the plug-in and channel builder respectively.
The Channel Builder offers a nice navigation pane at the left side where you can view all the added channels while options to search through different channels are given in the main window. It lets you add, submit and delete channels anytime you want. First, you need to download or add the channels that you wish to watch in Windows Media Center, it offers a list of downloadable channels ranging from channels for Kids, News, Entertainment, Technology, and so on.
Once channels are downloaded, click Run Guide Processor, it will start processing all the content of specified channels. Furthermore, you can queue-up channels in different days lists (list for each day is available at the bottom to insert a channel), so you can watch your favorite T.V shows, movies, news bulletin, dramas, etc at scheduled intervals.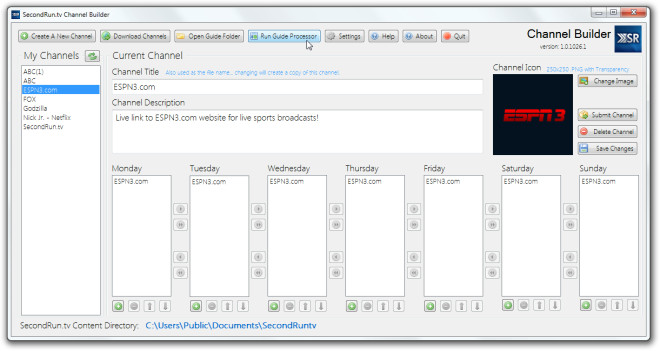 Once Channel Builder is set up, launch Windows Media Center. You will find SecontRun.tv option beneath Extras in Windows Media Center. Click it to list down all the videos from selected video-sharing websites and networks, and start watching your favorite T.V shows, movies, etc.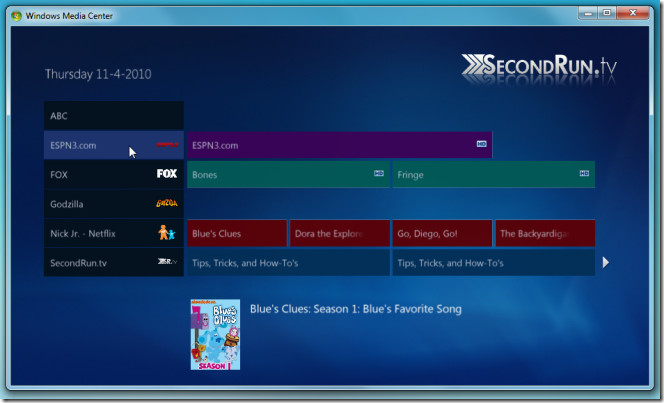 The developer has worked very carefully to deploy the pre-defined list of channels, adding new channels and configuring them is hard and a bit dragging, since it doesn't integrate channels' live feeds directly and a permission is also required to run Guide Processor for the newly added channel. On the product page, you'll find a detailed video, showing a generic overview of configuring the plug-in through Channel Builder. The application works fine without showing any problems on our Windows 7 x86 system.
Giveaway
The giveaway will last for 24 hours. To win a license, you need to follow us at @addtips or join our Facebook Page, then tweet about this giveaway (or post it on your Facebook wall), and finally leave a comment with the link of your tweet or wall post. We will pick out 10 lucky winners!
Update: The giveaway is closed, all winners will be notified and receive the license via email.