Watch High Definition Videos On Windows 8 With The Official Vimeo App
Being a software reviewer, you learn to read between the lines. You can tell at first sight what an app does and little explanation is required to introduce it to the readers. Vimeo for Windows 8 is exactly one such case. You might be living under a rock if you're unfamiliar with this far-famed video streaming service. Although, YouTube has cleverly dominated the video sharing realm, there's something interesting about Vimeo, which makes it stand out – and that is the indie filmmaker's attraction. It's not like any other website to share some random video clips, but rather targeted at auteurs around the globe. And might even help you go viral within a few hours. The Windows 8 app of the service looks equally appealing. It allows you to upload and watch videos, as well as browse a number of channels that suit your taste.
The interface of the application takes full advantage of Windows 8's Modern-style UI and presents everything in full screen. And I bet navigation will be fairly easy on Surface and other slates (I only got the chance to test it on my Windows 8 notebook). The app allows you to access videos both with and without signing into your Vimeo account.
You can grab it from Windows Store. For some strange reason though, I couldn't find it in any of the Store's listed categories. So, in order to download it, open Search Charms within Windows Store and type Vimeo. After the results are displayed, click the app's name and then click Install.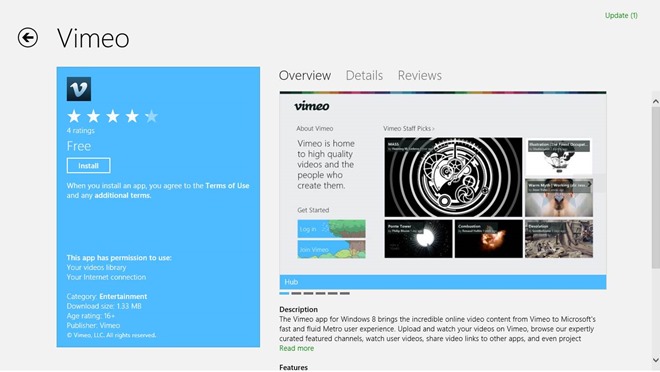 The app presents the accessible videos in tiles listed under the pertaining Vimeo channels. Upon launch, you may click the Login button on the front screen, and then enter you email and password to sign in to your account. Some of the default channels include Vimeo Staff Picks, Video School, Everything Animated, Music Videos, World HD, etc.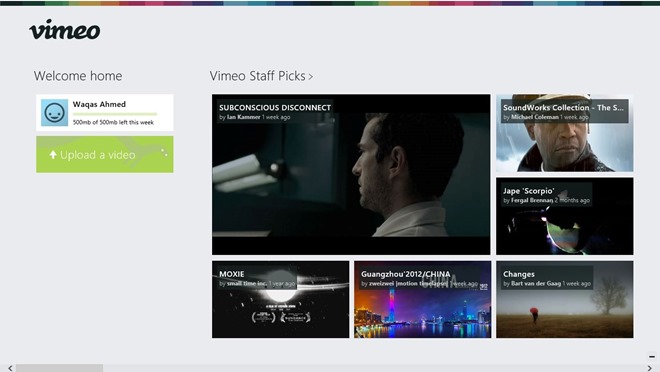 For instance, Music Videos shows off the video tiles tagged as music. You can scroll left and right through the interface to peek at additional video tiles. Clicking on a video kicks off the full screen playback.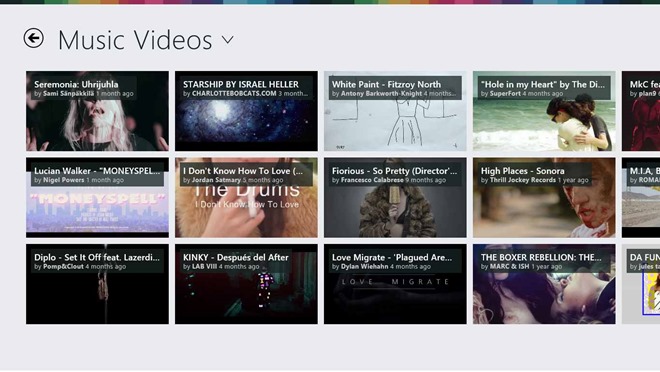 Videos are played at their highest quality (I couldn't figure out a way to change resolution, or am I missing something here?). The playback window shows a seekbar at the bottom, along with navigation controls for Like, Watch later, Open in IE, Copy link and Information. It lets you know of the current video title and uploader's name, both appearing at the top.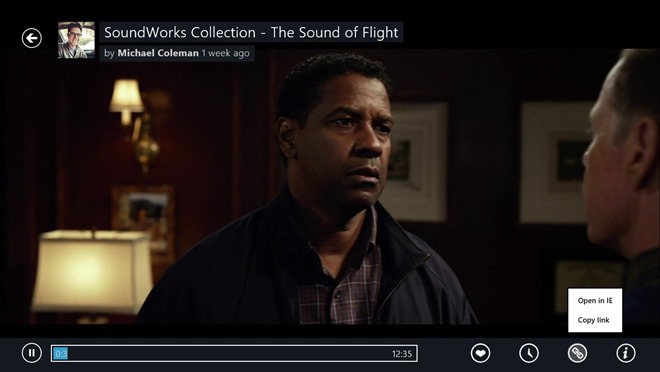 Uploading a new video also works like a charm. Simply click the Upload button on the main screen and select the video file you want to upload. Type the Title and Description, and toggle Privacy status before clicking Save to commence the upload process.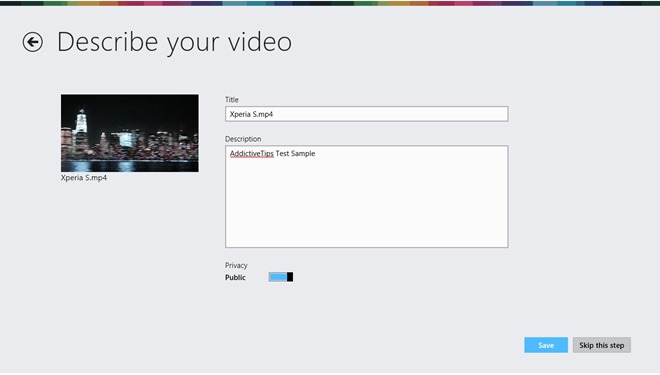 It should be noted however, that you may only upload up to 500MB worth of content in a week, on a basic account. If you need further juice, you're required to sign up for paid subscription.
Overall, a very polished looking app with all the needed features and settings. Vimeo is one of the best Windows 8 apps around. Testing was carried out on Windows 8 Pro x64 system.