Watch Latest Videos From Subscribed YouTube Channels With YTWatcher
YTWatcher is a portable desktop application which allows you to view and sort your subscribed, favorite and liked YouTube videos. It keeps track of unwatched videos from your subscriptions and plays them back to back. You can also manage the order in which these videos are played and instantly share them across Facebook and Twitter . When a video is played, YTWatcher records its duration and if the application is accidentally exited, the video is played from the exact point from where you left (the next time YTWatcher is launched).
Once YTWatcher is launched, login with your YouTube account to start viewing unwatched videos from your subscriptions. You can switch from the subscription to favorites mode (to watch videos marked as Favorites), Play/Pause and control volume of the current video from the status bar buttons.
To change the default order in which the videos are played, head over to the Video drop down menu and select Change Order option. From here, you can also Play/Pause or skip the current video, enable full screen mode, and share videos. These tasks can also be performed using the various hotkeys, e.g. CTRL+Shift+Space to Play or Pause videos.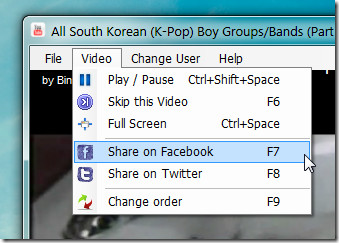 The Change Order option opens a new window which contains the list of all unwatched videos from your subscriptions. You can move (up/down), delete and mark a video as unwatched for later viewing via right-click context menu.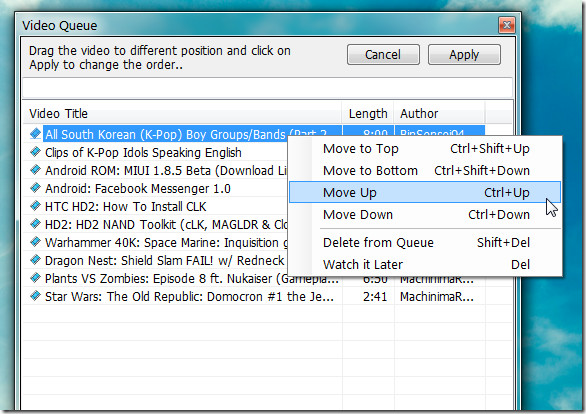 YTWatcher works on Windows XP, Windows Vista and Windows 7, provided you have .Net Framework 4 installed.