Watch Stock Market Live, Including Your Portfolio And Gain
TickVue is application to keep tab on stock market fluctuating values and rates, you can track all the specified companies in stock market in nearly realtime. The main data source is Yahoo Finance from where it fetches information about the companies (you select while setting it up) periodically (30 secs) and updates you about the stock values while calculating your Portfolio Value and daily Gain. Furthermore, it comes with Charts feature to help you in analyzing the stock values visually.
With its miniscule and simple interface, you can set it up to track companies in a snap. Click Add and fill out company-related symbol, label, and amount information. If you are not sure about label/symbol value, visit Yahoo Finance and search for respective values.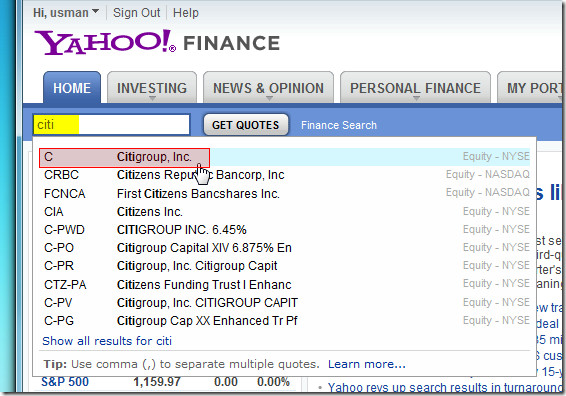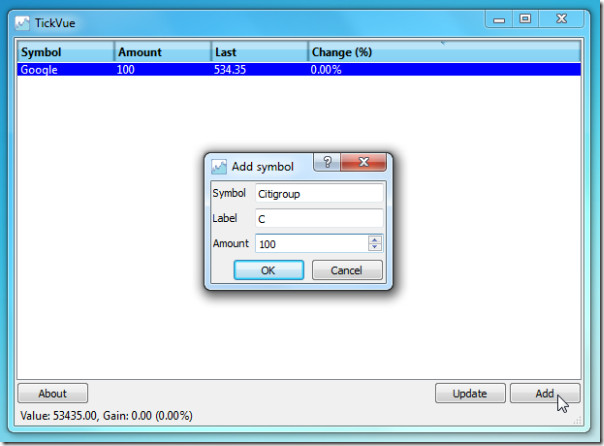 Similarly, you can add as many companies as you want by adding the correct information. By default, it updates the data after 30 secs, however, you can manually update the stock values by clicking the Update button. From right-click menu, you can Edit or Delete the information of any selected company, and also create charts on different (daily/weekly/monthly/yearly) scales, which visually shows you the data for analyzing the company's position in a much better way.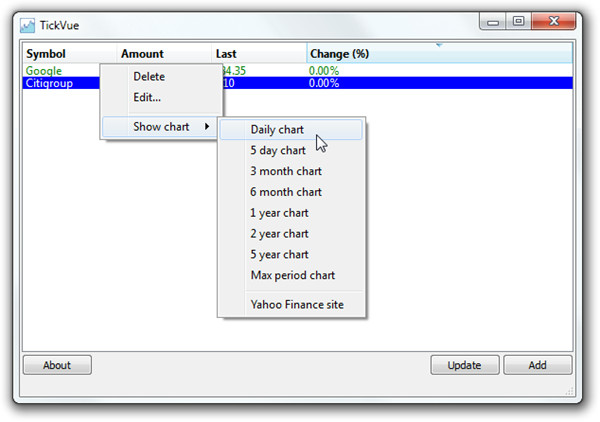 It is further possible to save, copy and open the image to analyze the current statistics later. You can also select multiple companies to view and analyze their relevancy based on their past stock values.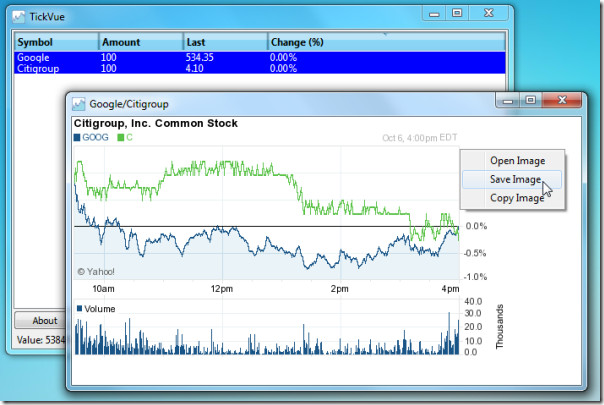 You wont even need to bring it up every time to view your Portfolio Value and Gain, just hover the mouse over its system tray icon to check the values.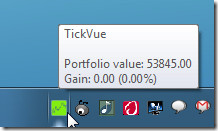 If you've invested heavily in stock exchange, this little application will come utterly useful. However, you can always keep yourself updated with a list of SE companies and manage your portfolio accordingly. It runs on Windows XP, Windows Vista and Windows 7. Testing was done on Windows 7 x86 system.