WatchMe Lets You Add And Manage Timers For Multiple Tasks
If you are in the habit of doing multiple tasks at a time and want to track the time spent on each task, WatchMe is worth a try. This timer application features extensive options to set timers, add alerts and manage timers for all your tasks. It lets you add timers for different tasks, and run them individually or simultaneously without conflicting with each other. You can add notes, set alerts and enable hotkeys for individual timers. The application allows you to view individual times for each task, as well as the total time. WatchMe can track time spent during work, and calculate hourly billing according to specified rates. It monitors how often you switch between your tasks, and the focus light informs you about your focus level.
The interface has Timers menu at the top, and individual timers appear below it. From left to right, the timer has Basic Description, Stop and Reset buttons, Timer clock, Add Note, Delete Timer, Move up and Move down buttons. To add a new timer, click Timers and select Add Timer. You can add notes to your timers for detailed descriptions about your tasks by clicking the Add Note button available in front of the task timer clock.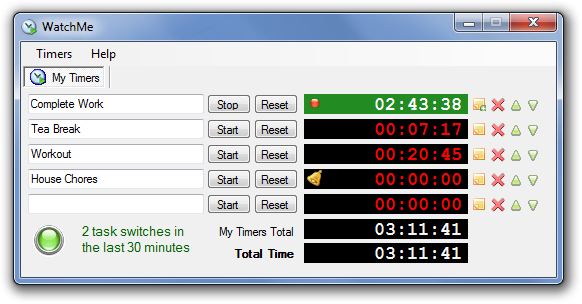 Right-clicking the timer clock reveals a menu with options such as Copy Time, Add Time, Subtract Time, Set Hotkey, Add Alert, Flag and Start Timer Automatically. Add Time and Subtract Time let you add and subtract time from the current time in timer clock. Set Hotkey lets you add hotkeys to start and stop the timer, and Add Alert opens up a dialog box to add alerts to a timer.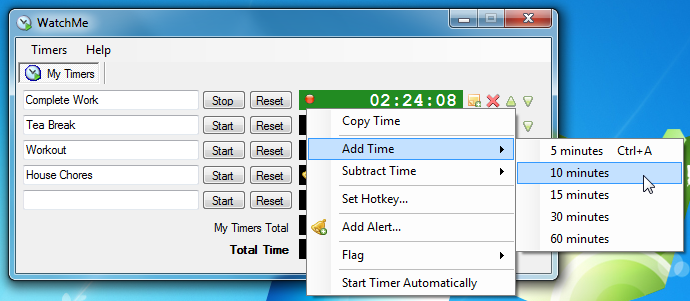 Right-click the timer clock of a task and select Add Alert to add an alert for the timer. Choose the alert time and select if you want to receive the alert in form of a text, sound or an application launch.
The Timers menu has options such as Add Timer, Add Timer and Start, Start All Timers, Stop All Timers, Export, Options etc. The Export button lets you save your timers in CSV file.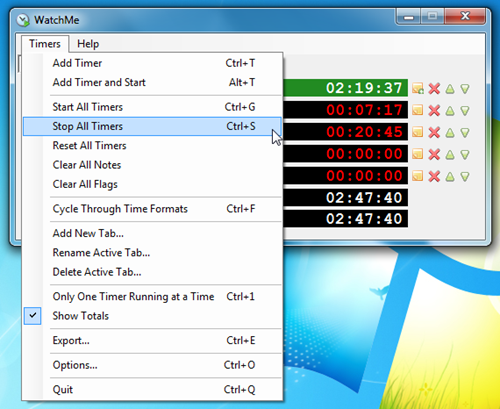 Select Options from Timers to specify General Settings like getting warnings for inactivity, and how often to receive the warning message, Timer Settings including Running and Stopped Timer Display, Time Format and $ per Hour for billing purposes, and Stay Focused settings for Focus Light. Once all settings are configured, click OK.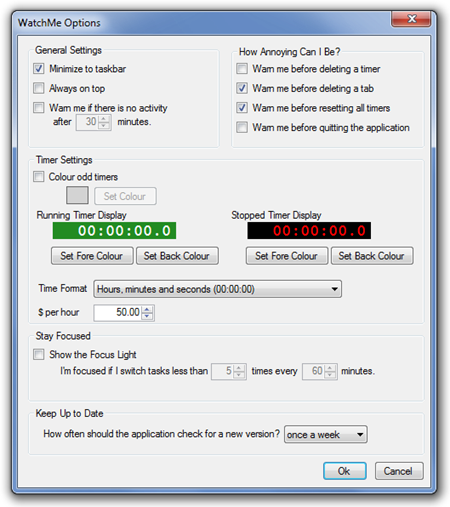 WatchMe is a portable application and works on Windows XP, Windows Vista and Windows 7.