Wave Cipher – A Unique Way To Encrypt & Protect Your Files
The security of data is vital now-a-days, common tools for securing data use the password protection mechanism. Such a tool simply sets a password on the specific data file, so that a password is required in order to access the data file . But in this way, everyone gets the idea that it is a password protected file. WAVE Cipher is a small and easy to use tool that enables you to encipher and password-protect any file into a harmless looking WAV file. You can also decipher the file back to its original form. Thus your important data file is converted into a wav file and if some one tries to open it, he/she will only listen to some noise.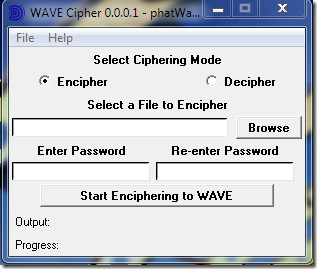 In order to encipher a file to wav format, just browse to choose the specific file and enter the eight letter password twice, then click the Start Enciphering to Wave button.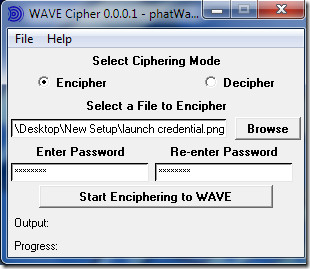 Here is the message that you will get when the ciphering process is completed.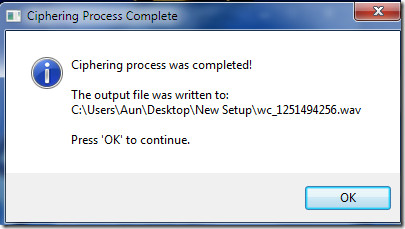 When you want to decipher the file, choose the Decipher option, browse to locate the file, enter the password then click the Start Deciphering to WAVE button.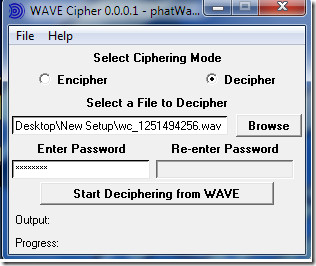 It is no doubt a very user-friendly tool and offers an amazing new way to hide your confidential data. It is still in the development stage and the current version of the tool is capable of enciphering files which are no larger than 1MB in size. Now 1MB is too less for us to mark it as useful, but it can come handy in case you want to encrypt confidential documents.
It works on Windows 2000, Windows Server 2003/2008, Windows XP, Windows Vista, and Windows 7. Enjoy!