Webinaria Is Screencast Recorder With Build-In Video Editor
There are 3 important characteristics which you must look for in a screencast recording tool – output video quality, ability to convert video into widely used format, and audio narration support. If you want these attributes in a simple yet powerful screencast recorder, check out Webinaria. It is a distraction free open source utility which works from Windows system tray, and has the ability to convert recorded video into FLV format on-the-fly. It can capture full screen, only active application, or defined size of screen. Unlike other screencast recorders, you can get required output video FPS without having to use any third-party converter to align video FPS with audio narration.
The main screen shows hotkeys to quickly start, pause and stop recording. Before clicking Record button or using a hotkey combination, move to hardware and options tab to set it up according to your requirements.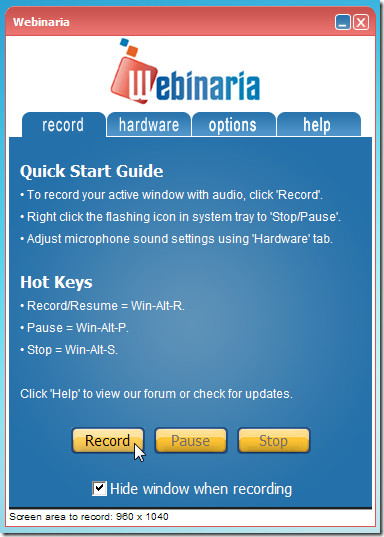 Under hardware tab, choose the installed webcam and sound device. From options, you can toggle Record audio narration and Record webcam video options On/Off, define area of screen to be captured, and select video FPS. After all the settings are in place, minimize it to system tray and use the hotkey combination to start recording screencast. Besides using hotkeys, you can also pause and stop recording from its system tray menu.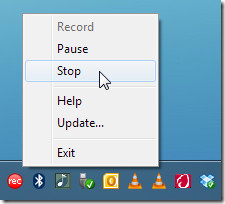 When you're done recording the screencast, stop the recording to bring up Webinaria screencast editor. Here, you get options to tweak with recorded screencast. You can enter text at defined interval, check and move between each recorded frame, enable/disable sound, convert the screencast into FLV format, and, finally get a preview of edited screencast.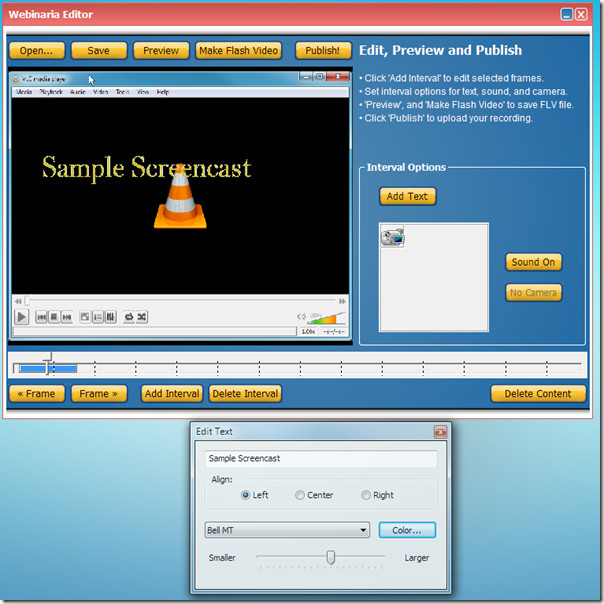 Don't forget to click Save after making changes. Now play the screencast in your favorite media player to verify the specified FPS and video quality. As per testing results, we found it to be working fine with no noticeable problems. It works on Windows XP, Windows Vista, and Windows 7.