WiFi Connection Speed & Signal Strength Monitor
So you want to connect to the internet while sitting in the cafe or during a conference, you search for WLAN signal and get around dozens of results, what would you do next? Which WiFi connection will you join? Instead of wasting half an hour searching for the best connection that is both unencrypted and has the best signal, you can now find it out much more easily with Homedale.
It is a WLAN signal strength finder that will tell you which WiFi connection has the best signal in the room. Apart from Signal Strength, it will give full information about Encryption(WEP/WPA/WPA2), Speed, Channel, Frequency, Bitrates, and other useful settings.
Since it is a portable tool, all you need to do is run the executable file and it will detect all WiFi connections. By default you will see the Adapter Overview tab where you will find all information related to your wireless adapter.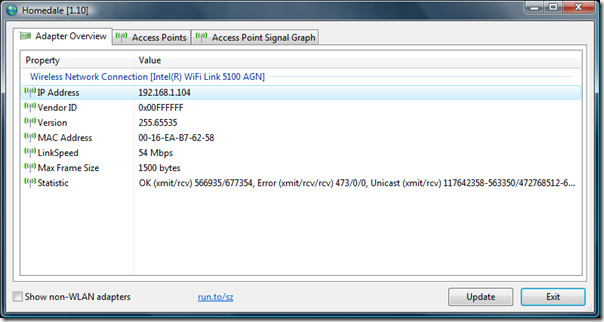 The Access Points and Access Point Signal Graph tabs give the complete overview of all detected wireless connections. While writing this review, only one WiFi connection was detected in my area so I as not able to review this section. Therefore the screenshots below are taken from developer's webpage.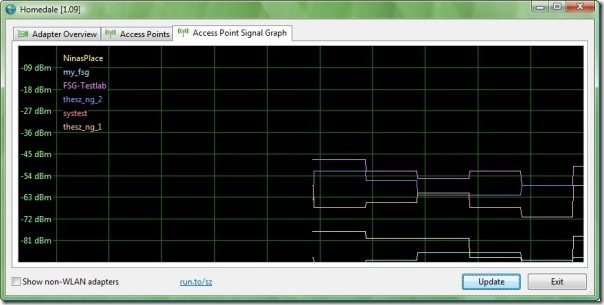 It works on Windows XP, Windows Vista, and Windows 7. Also check out outSSIDer, a quick unencrypted Wi-Fi scanner. Enjoy!