Wikipad: Notebook To Create Wikis, Take Notes, And Organize To-Dos
Wikipad is a simple note editor that can be used to make notes, create to-dos, sort contacts, or simply jot down your ideas to make a draft. Any information on Wikipad can be cross-linked with ease, which enables you to sort and connect information across different wikis.
The application establishes a tree of every page to show its relation with the pages it is linked to. Referring and the referred pages are shown as parents and children respectively. The tree structure enables you to quickly find and navigate to a particular page.
It also supports tabbed editing. By opening separate tabs, you can add pages to the wiki you're currently working on. This is useful if you want to add a diagram or some simple tips, but you find them more suitably placed in a separate tab, and not in your main wiki.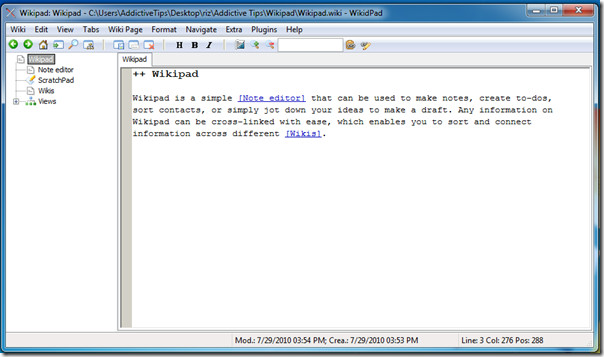 You can switch between edit and preview mode. The editing mode is used to create new pages, add wiki entries and add internal and external links to your work. The preview mode displays how your wiki will appear on the Internet browser. To toggle between edit/preview modes, you can use hotkey Ctrl + Tab or click the Switch Editor/Preview button.
It is a useful, wiki-like note editor. It goes beyond simple text-editing to offer advanced features, such as assigning tree structure or tabbed editing to organize your information. You can use it for anything as professional as writing business memos and taking meeting minutes to creating a simple wiki for your favorite hobbies.
It supports Windows XP, Windows Vista and Windows 7; testing was carried out on Windows 7, x86 system.