Windows 10: Remove Widgets From The New Tab Page In Edge Browser
Internet Explorer has finally gone the way of the dinosaurs and just about everyone saw that coming. That doesn't mean Microsoft has left the browser wars or that it's actually dead. Microsoft has rolled out a new, rebranded, browser and it's called Edge. It's going to be released with Windows 10 and has a whole host of amazing features. The New Tab page in Edge has a speed dial feature that shows frequently visited sites, as well as suggested news content and widgets for the weather and scorecards for on-going sports events. The news and widgets are slow to load and can at times render the New Tab page unresponsive for a second. If you aren't a fan of the news or the widgets, here's how you can turn them off.
Click the options button at the top right and select Settings. Scroll down to the 'Open new tab with' option and from the drop-down, change the selection from 'Top sites and suggested content' to 'Top sites'. You can alternatively set it to show a blank page if the search bar and the speed dial don't appeal to you either.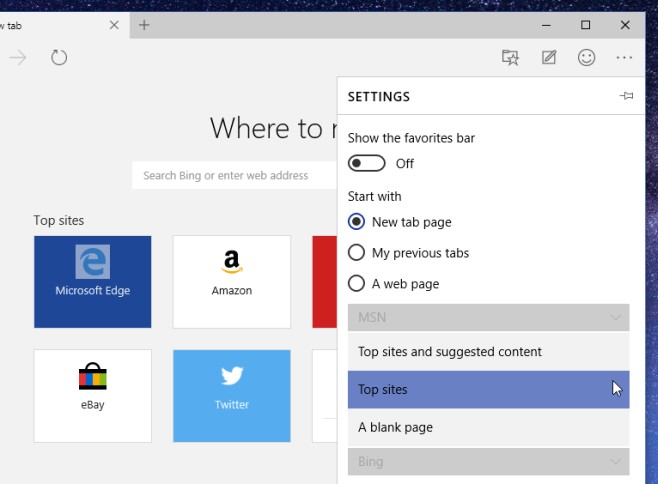 Obviously, we do wish there were more options or just a way to edit which widgets or what type of news is shown on the new tab page. Where Microsoft has cleaned up the general interface of its browser, it still seems to be stuck on the idea that all that clutter on the new tab page is a good idea.