Windows 8.1 Helps Takes Care Of Your Body With Bing Health & Fitness
Windows 8.1 has brought something for health enthusiasts; the new Bing Health & Fitness app that lets you track your daily calorie intake, manage an exercise routine, look up how many calories there are in a particular food item, as well as a disease symptom analysis tool that helps you diagnose yourself when you're feeling unwell (and is possibly a bad idea). The app also has a drug lookup tool that you can use to search for medicine by popular names, or their basic components to see what they are prescribed for and view other helpful information like what you should do if you've taken an overdose.
Health & Fitness is less of a health and fitness app and more of just a fitness app since it is geared towards managing weight and your daily diet, but that too has a few missing features. It's a work in progress, and that's the most generous description one can give it.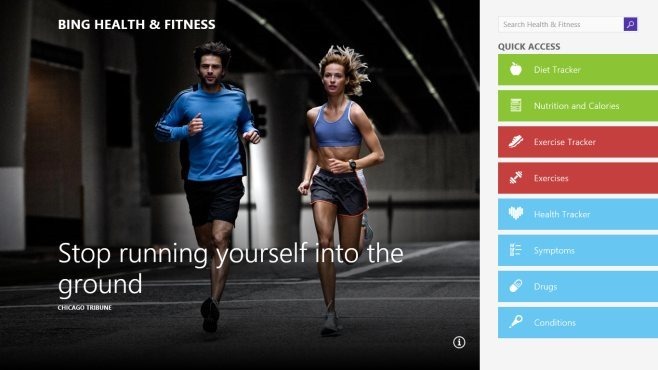 The quick access menu on the app's home page allows you to track your diet, check the nutritional value of food, manage your exercise routine, look up exercises geared specifically towards a body area that you want to tone, keep track of your weight, cholesterol, etc., diagnose any symptoms you might be feeling, look up a drug, and see what conditions are induced by a particular illness.
The 'Diet Tracker' is pretty good; it allows you to look up the food items you've taken as part of different meals throughout the day and record them accordingly with the nutritional value of each one. The feature measures calorie intake based on a 2000 calorie diet and lets you record breakfast, lunch, dinner, and any snacking you might do between meals.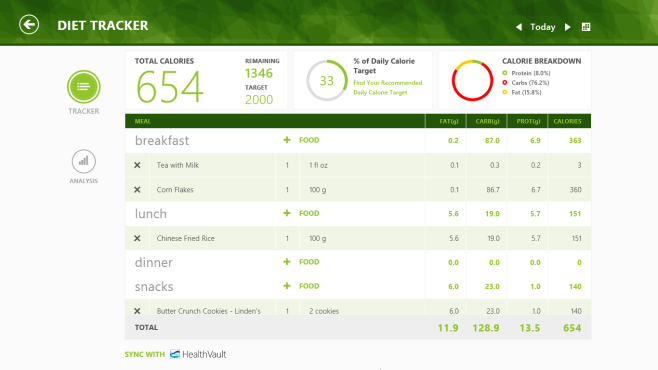 If you switch to the 'Analysis' page, you will be able to see how well you've managed your calories over the last week or month. You can get a breakdown of your protein, fat and carbohydrate in-take here.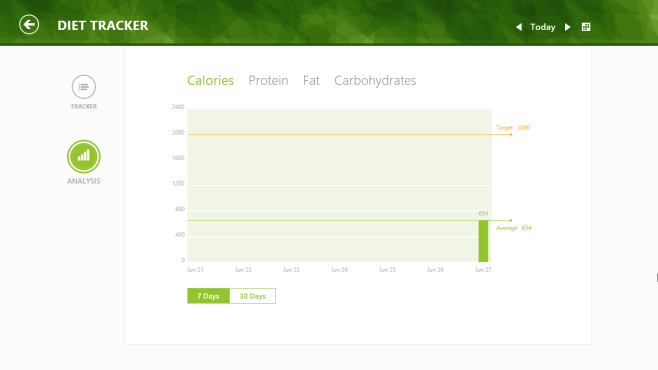 The 'Nutrition Lookup' feature lets you search for foods and see what their nutritional value is. You can't add foods from this tool to the Diet Tracker, but it's a good way to make an informed decision regarding what you plan on eating.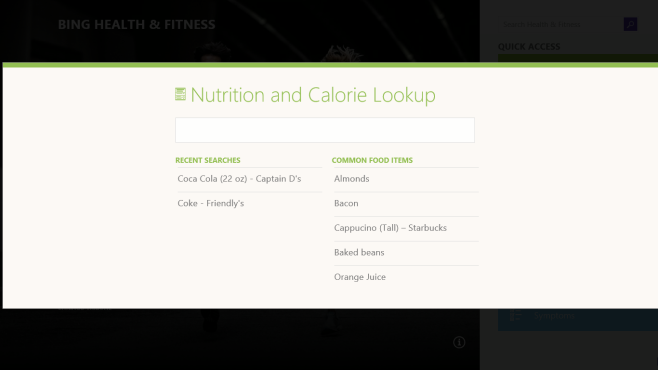 The Exercise Tracker works much like the Diet Tracker. It lets you keep track of how much you're exercising and how many calories you're burning, but this tool has a major flaw in that it does not calculate how many calories you've burnt, as this doesn't seem like a feature that could be considered rare. Many online resources can give you a fairly accurate estimate of how many calories are burnt by doing a particular exercise for a certain amount of time.
You can view your exercise history as you add to it. It is divided into two types; cardio (fat burning) and Strength (muscle and endurance building).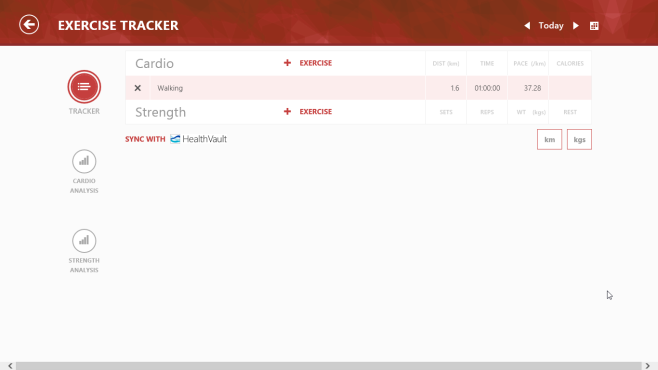 The Exercises tool allows you to look up exercises; based on what outcome you hope to achieve (i.e. cardio for weight loss, etc.), which part of the body you want to focus on, the equipment that you have available and would like to use, and how difficult it should be. None of the exercises tell you how many calories you will be burning though each one is accompanied by step-by-step instructions for performing it.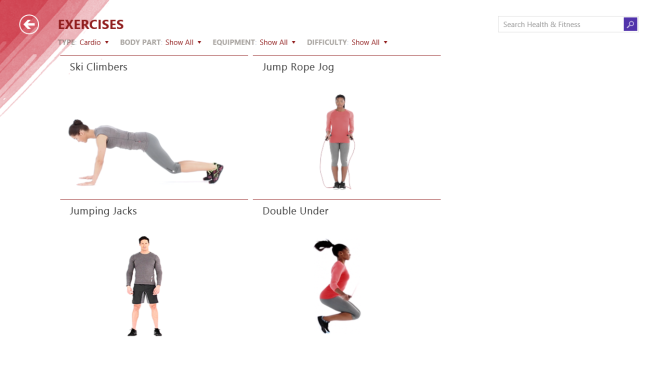 The 'Health tracker' allows you to maintain your health profile. It allows you to enter your weight, blood pressure, cholesterol level, and track it over a period of time. You can create a profile for yourself where you can enter your weight, age, name, and other basic information.
The puzzling thing is, all other tools work perfectly fine even if your health profile is empty, which means none of the other tools are really picking up on the information stored in this profile and are functioning without it.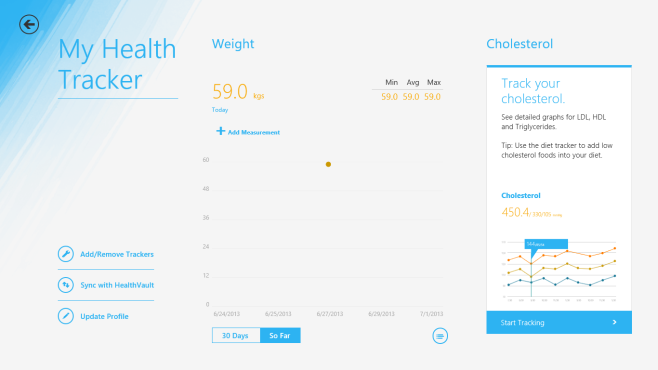 Next, you have the Symptom checker that will ask to specify whether you are a male, female, or child. You can then select a part of the body that hurts and select symptoms that you're experiencing. It's a self-diagnosis tool. It pulls information from the MayoClinic website and, needless to say, it can be wrong. It's always best to visit a doctor.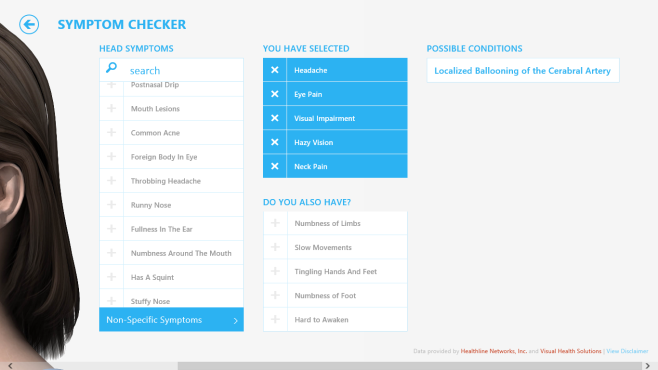 The 'Drugs' tool allows you too look up drugs and what they're prescribed for, while the 'Conditions' tool is yet another self-diagnosis tool. You can use it to view, for example, the symptoms associated with Diabetes and see how many of them you are experiencing.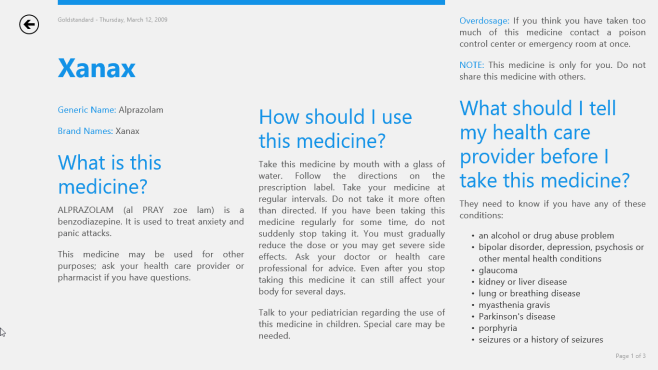 There are a lot of shortcomings with the app. As mentioned earlier, Health & Fitness is more geared towards fitness than general health. It might be worth pointing out that there is no way to track any health factor other than weight and a very basic blood profile. There is no way for women to track their fertility periods or monthly menstruation cycles, gender is not taken into account across all tools, people with pre-existing conditions like arthritis or diabetes are treated the same as healthy individuals, and worst still is the fact that there are ways to look up drugs and be an at-home doctor with the self-diagnosis tools.
In certain areas, like the Diet Tracker, critical information like age, gender, height, and activity level of the individual are ignored and everyone is treated at par with a 2000 calorie diet base. The data saved by some tools can be synced with Healthvault, but unless the quality of the data is improved, it might not be of much use. This app needs work, and perhaps a dose of common sense injected into it.