Windows Alarm Using iTunes Music To Alert
iSnooze is an alarm application for Windows, with a touch of music! This tiny application sits in the system tray and integrates with iTunes, making it play a defined track at a scheduled time, and sports options like increasing volume to ensure that the wake up purpose is served well.
Once installed, you get to configure the alarms through a self-explanatory options window. Set the alarm time or select from one of the pre-configured profiles. You can choose the days of the week when the alarm is supposed to work.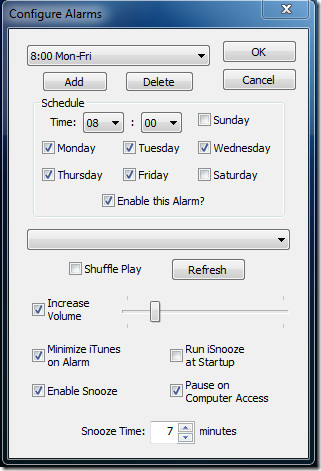 Next up, you get to choose the track you want played via iSnooze. Shuffle is there, and you can also enable the volume to gradually increase, much like a typical alarm clock. Other options include letting the program start up with Windows, minimizing iTunes when Alarm rings, pause on accessing the PC and enabling snooze. 'Snooze' is an interesting feature, which, when enabled, shows a dialog on your screen with the word snooze across it. Click it and the alarm would go to sleep again for a predefined time. Real alarm clock, again!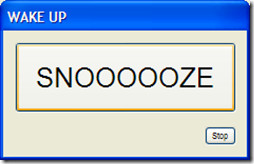 Needless to say that iSnooze requires iTunes to be installed on your system and works well on Windows 7.