Windows Layout Manager is a free tool that allows users to manage the layout of different windows on a single or multiple monitors simultaneously. It was developed by Stefan Didak for this own personal use but has been made available to everyone.
If you have multiple monitors connected to a same or multiple systems and you want to manage the layout of different windows that you use frequently, then this app does the job. The good thing is customizability, you can arrange the layout in almost any combination across multiple screens.
You can add, edit, remove, and manage all windows layouts from the main window. When minimized it sits in the system tray from where you can access all layouts.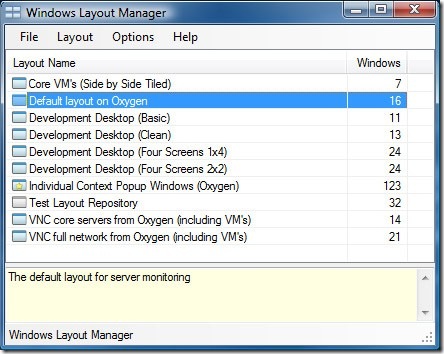 Screenshot above is taken from developer's webpage
The functionalities doesn't end here, you can restore a window after a specific time, detects new window when they are opened, ignore certain processes, enable hotkeys and control the layouts with hotkeys, include only maximized or/and minimized windows, and much more. Most options are available from the Configuration window which can be accessed from Options > Configurations. For more advanced layout management, go to Layout > Edit from where you can modify each and every property of the layout.
For full guide along with instructions, hit the link below. The possibilities with this app are unlimited.
Download Windows Layout Manager (WiLMA)
It works on Windows XP, Windows Vista, and Windows 7. Enjoy!