Yesterday I mentioned how Microsoft is trying to make Live SkyDrive the central destination for uploading, organizing, and sharing files. LiveSide blog has posted some screenshots showing Windows Live Devices which is said to be introduced as part of the upcoming Windows Live Wave 4 update.
Windows Live Devices will replace Windows Live Mesh, with all files being hosted on Live SkyDrive. This further proves that Microsoft plans to make SkyDrive the central destination for all types of storage. Earlier this year, Jamie Thomson posted an interesting comment which was left on SkyDrive team's now defunct blog, it said,
……Live products need more unity. There is Office Live, Live Mesh and Skydrive. It would be great if all of them were connected so that we can keep all of our files in one cloud-place.

I really like SkyDrive. But it's SO DISJOINTED.
We got FolderShare. Which is separate, and even doesn't use LiveID.
We got Office Live, Live Mesh, and SkyDrive.
And, btw, Windows Home Server web access.
All these things provide some storage. And all of them are separate.
That's awful.
Please, place someone to overlook the UX of the whole online services. Because the ideas are great, but the details spoil that all.
It seems like Microsoft is trying to do just that. First Microsoft integrated Photos, then Favorites, and now Office Web Apps with SkyDrive. The next big step is to integrate all other scattered services with SkyDrive, starting with Windows Live Mesh(which has been renamed to Windows Live Devices).
MS plans to integrate FrameIt as well, which means Photos stored in SkyDrive will be watchable on FrameIt-enabled digital photo frames. For proof see the first screenshot below. It reads, "Add your PCs, Macs, Mobile Phones, and Digital Photo Frames to Windows Live".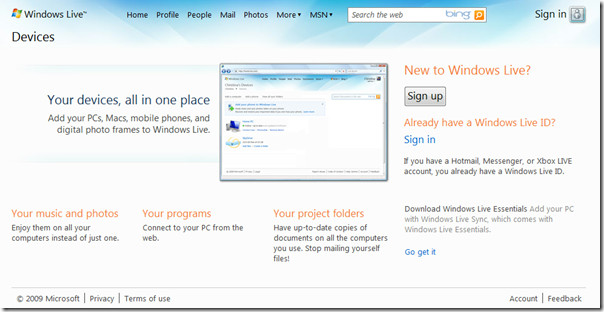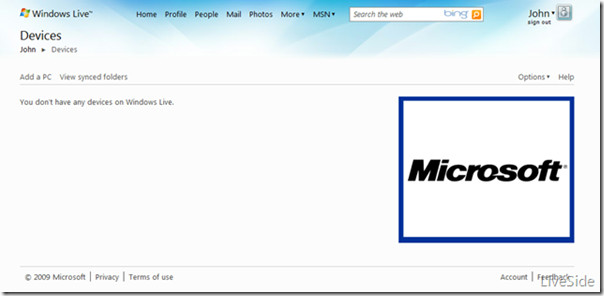 So here we have concluded that Windows Live Devices is definitely coming with Windows Live Wave 4 update and also shown how Microsoft is trying to make Live SkyDrive the center stage for all services.
Now tell us, what do you think about Windows Live Devices and it's integration with SkyDrive? Do you think Microsoft made the right decision? If not, then what is your opinion? We would love to hear your thoughts.