Windows Live Mail, Messenger, Contacts, And Calendar Backup
MailBrowserBackup is a portable tool for Windows that makes a backup of multiple browsers, mail clients, and other useful applications such as, filezilla and pidgin. Since we have already covered a way to backup and restore browser settings, we started looking into other apps who's backup is possible.
When Microsoft introduced the Windows applications, such as Mail, Contacts, and Calendar, most users started using them for managing most of their tasks. For example, I have synced my Windows Contacts with my iPhone, so making a backup of Windows contacts makes sense.
MailBrowserBackup can make a backup of Windows Mail, Windows Live Mail, Windows Contacts, Windows Live Messenger, and Windows Calendar. If you use these apps regularity and rely heavily on them, then this tool should be your top priority.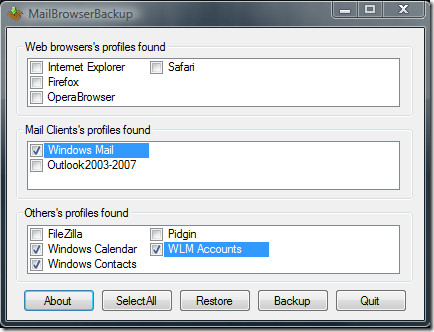 Once you have selected the profiles, hit Backup, choose the destination to save backup file and hit OK. Restoring is also simple, you just have to select the backup file and it will restore it instantly.
It works on Windows XP SP2, Windows Vista, and Windows 7. Enjoy!