Wamon: View & Monitor All User Activities
Have you ever wanted to monitor all the actions, processes, applications which you've been using all day long to make a general productivity report? Or need to know what others generally do on your system? If yes, then Wamon Windows Activity Monitor provides multitude of features and options to view, record, and monitor all the previous actions, processes, applications that's been active during the specified time and create generic statistics & chart.
It is full-featured Windows system activity monitor software to keep tab on all the activities, processes, actions, taken out during specified date/time. The application runs on localhost (with standard IP 127.0.0.1) holding different options to view specific tasks done lately.
Once installed, launch the application and it will open in default browser (with localhost IP). You can view & monitor statistics, add groups, view complete time sheet, keep check on processes and configure settings from the respective links provided at the top. Specify starting and ending date and click Load to view & monitor tasks carried out on system in defined duration.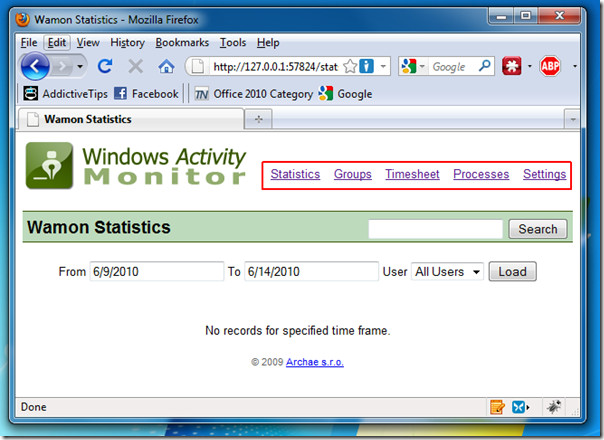 Under Groups, you can add new groups by using Windows regular expressions to view their actions in one window.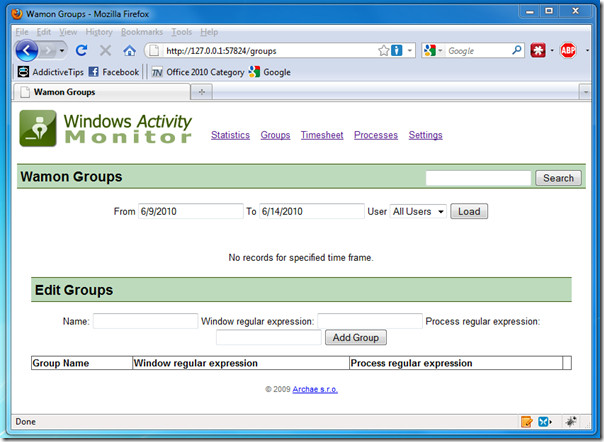 Timesheet comes useful as it lists down the actions performed under specific time. Under Processes window, you can add processes to keep a regular check on the processes. Under Settings, you can configure various options such as; changing port, days to keep history, enable remote access to Wamon (to remotely access Wamon), and protect it with a password.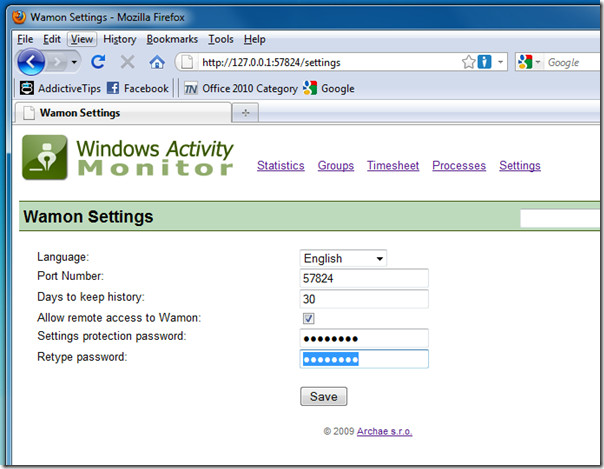 You can also try out previously covered Windows Activity Monitor tools; Glint and SpyScreen.
It runs on Windows XP, Windows Vista and Windows 7. Testing was done on system running Windows 7 32-bit OS.