WinHotKey: Assign System Wide Hotkeys To Control Windows & Launch Applications
If you are a power user, then you should add WinHotkey in your arsenal. It is a great application which allows you to to assign a hotkey to control various Windows features, pre-installed and 3rd party applications, folders, and any sort of file.
By default, it includes many pre-configured system wide keys to launch commonly used applications like the Internet Explorer, Calculator, System Properties etc.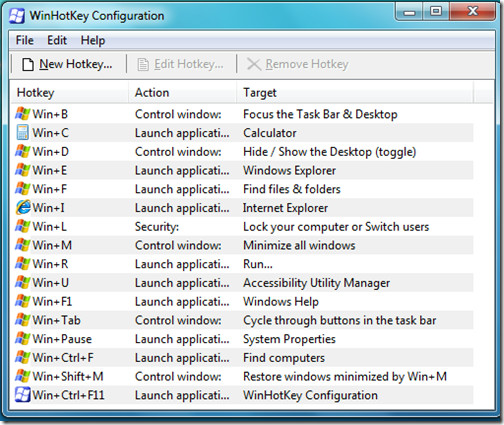 To add a new hotkey, click the New Hotkey option, then specify the Description, Key and the Application to launch(or Folder/Document to open). Please note that the Hot key combination include the Windows key, a letter or number, and can also include any combination of Alt, Control, and Shift. For Example, lets say that I wish to open the "Addictivetips.doc" located in the D drive of my laptop with the Windows + A hotkey, then here is how I can achieve it.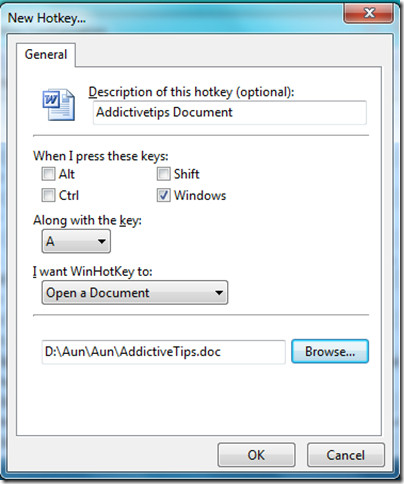 To be more explanatory, I select Windows from the check box, choose A from the drop down list and then Choose Open a Document in the I want WinHotKey to option. At the end, I will browse and select the location of the file to be launched. Similarly If you wish to launch any application by using some particular hotkey, then choose the Launch an Application option in the I want WinHotKey to drop down list.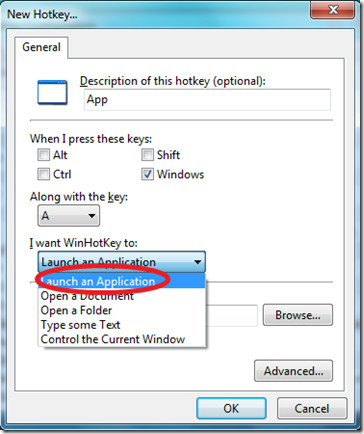 The following list of tasks can be assigned to a WinHotKey.
Launch an application
Open a Document
Open a Folder
Automatically type some text
Control the current Window
Jjust select the hotkey and hit the Edit Hotkey option to edit any particular hotkey. The Remove Hotkey option removes any configured hotkey.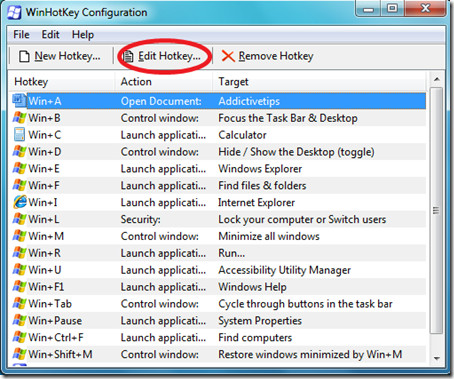 It works perfectly on Windows XP, Windows Vista, Windows 7 and Windows Server 2003/2008. Enjoy!