WinMend File Splitter: Split Large Files & Merge The Parts Without The Application
Sending large files via email wasn't very much plausible until recently and still, various email services don't support ubber large file attachments. Same goes true for file hosting websites and even if they support large file size, they do ask for some sort of premium subscription. If you want to split a large file into small chunks in order to upload it to a website or send it via email, then worry not, as WinMend File Splitter is all you need. It's a free Windows application which comes with an integrated file splitter and joiner utility, allowing you to split files into parts by specifying either the Number of blocks or Block size, whichever should you so desire. Unlike most file splitters and joiners that require the main tool to reassemble the split blocks, this particular program creates a relative BAT file after the splitting process, and running the BAT script brings back the original file by merging its parts. Could it get any easier?
The application supports five different languages, including English, Hungarian and Vietnamese. Additionally, there are five different selectable UI themes as well, which include Black, Blue, Orange, Red and Green.
Splitting a file is quite simple. Under Split File tab, you are required to select your Source file and Output directory. Once selected, you are given a two choices to split your file. If you're cautious about size constraints, try to divide the file in more parts by specifying the value under Specify number of blocks section. Otherwise, you can click Specify block size in order to input a custom size in MBs. The tool will also inform you about Source files size, Block size and Number of split files before you start the process. Once everything's in place, click the Split button at the bottom to begin the process.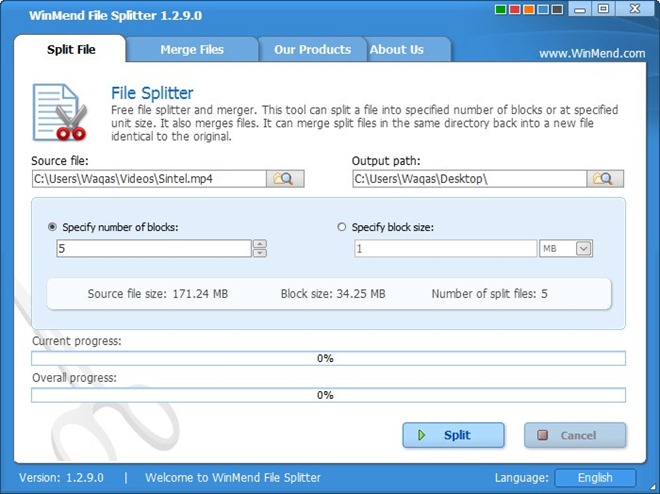 The split file can easily be merged back either by using the BAT file, or from within the application itself. To do it the latter way, first select Merge Files tab and then click the plus button to add the split parts consisting of extension named as .WinmendSp0. After specifying the output directory, click the Merge button.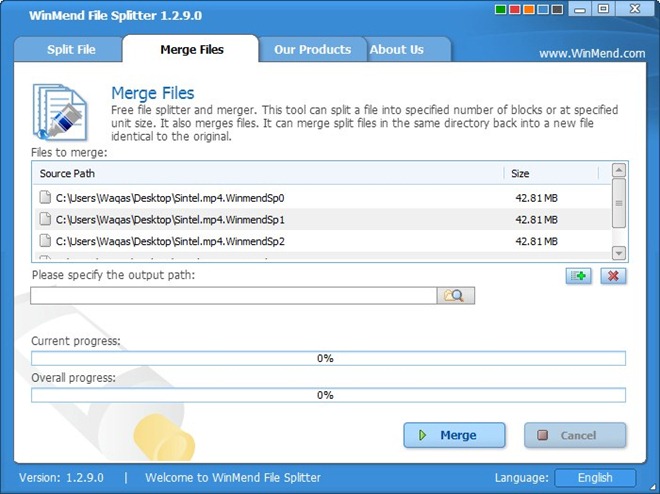 WinMend File Splitter works on both 32-bit and 64-bit OS editions of Windows XP, Windows Vista, Windows 7 and Windows 8. Testing was carried out on Windows 7 Ultimate, 64-bit.
Download WinMend File Splitter
If you liked this tool, click here to check out other file splitters that we have previously covered.