Winyl – Lightweight Audio Player With Simple Playlist Manager
Winyl is an elegant lightweight audio player for those musicphiles who want nothing besides an efficient playlist management system. It is an attempt to bring all the essential audio playing controls with media management and instant search feature in an easy-to-use application.  Along with some obvious characteristics, such as, showing album arts and editing track rating, it has an ability to automatically categorize your music archive into multiple groups, including, Genre, Artist, Year (of release) whilst letting user manage multiple playlists concurrently.
Running it for the first time prompts you to select the location of your music repository. Once selected, will start creating groups separating artists, genre, album, and year of release. Search bar with playlist manager can be accessed from the right sidebar.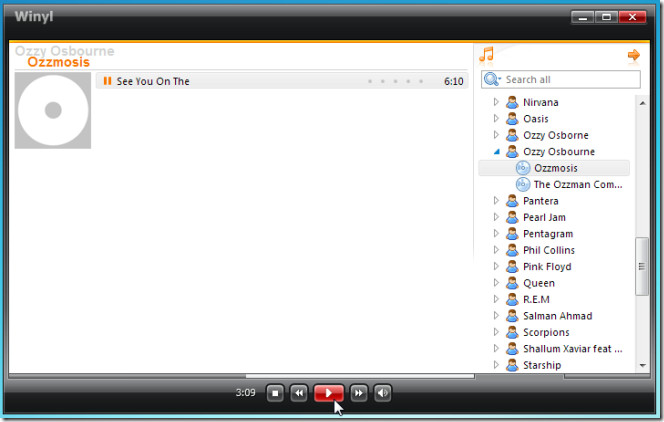 The playback controls can also be brought up from its system tray's menu where you can quickly jump to adjacent tracks. Search is blazing fast, just enter the keywords related with artist, genre, album, or year of release to view the filtered tracks in main window.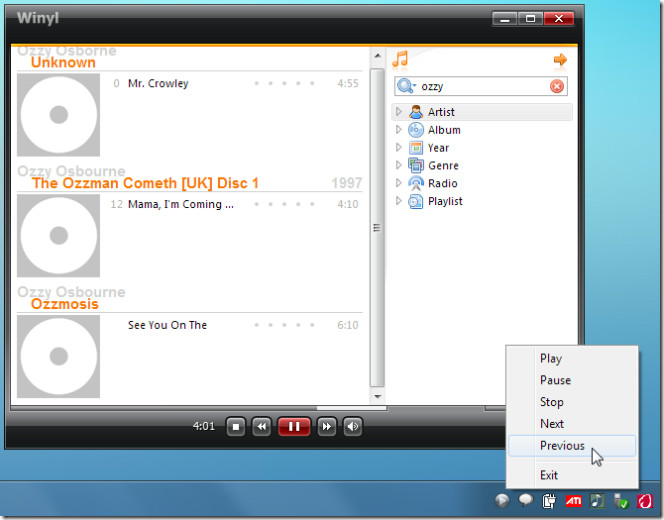 Winyl best suits the needs of music junkies who don't want any fancy features and options to tweak with. Being a lightweight audio player, it consumes only 9 MB of physical memory. It works on Windows XP/Vista/7. Testing was done on Windows 7 x64 system.