Wlipper: A Simple Clipboard Manager That Preserves Text Formatting
Keeping all the most frequently used text snippets in the Windows clipboard does make sense. It is extremely useful in various instances, especially when you're writing an email, draft, report or essay etc., and continuously bumps to the use of copy pasting text items between multiple documents. Unfortunately, the Windows 7 clipboard can hold only one item at a time within the clipboard, but luckily, there are many third-party applications available out there that allow users to extend the functionality of the native clipboard manager. Previously, we have covered plethora of clipboard managers for our readers. Today, we have another clipboard application that is inspired from GNOME's Glipper, known as Wlipper. It is a miniscule, open-source clipboard manager for Windows that keeps a history of all the text items that you copy or send to the Windows clipboard. This tiny utility sits in your system tray, and taciturnly saves the text you copy to the Windows clipboard in its history database. What makes it apart from other clipboard tools, is that it also preserves text formatting while saving text from the source. This feature may come helpful in situations where you're merging two rich-text documents. Read past the jump for pertaining details.
The application itself doesn't have any major interface. Upon launch, it automatically minimizes to the system tray. Right-clicking its notification icon opens up a context menu, which holds the complete history of your clipboard, albeit the program is designed to keep history of text items only. Whenever you copy any text, the application will automatically retrieve it and show it in this context menu. Sadly, the application doesn't support global hotkeys, which would've made it easier to paste the text items in the required application window. Clicking Clear history wipes out all the history database. Other than that you can select Preferences, Retrieve clipboard, Check for update and Help or simply exit the application by clicking Quit.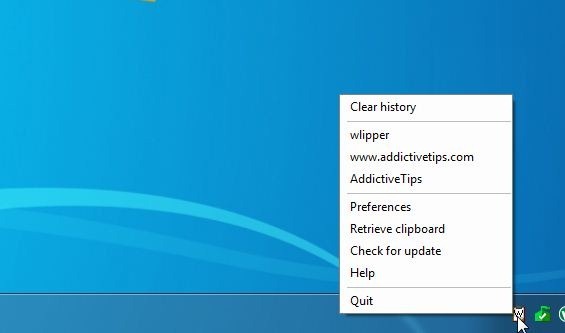 The Preferences window enables you to specify custom History limit values such as Number of entries, Entry display length and Tooltip display length. Should you need to disable text formatting,  simply unmark Preserve text formatting from the Behavior section.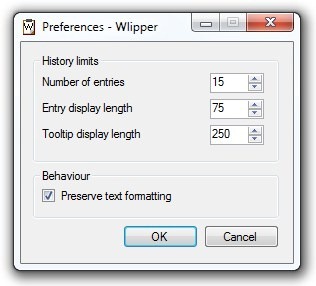 We found Wlipper to be an excellent freeware tool. It works on Windows XP, Windows Vista, Windows 7 and Windows 8. Testing was carried out on Windows 7, 64-bit OS edition.
If you liked this tool, click here to check out previously featured Quick Paste.