Wunderlist Is Beautiful And Easy-To-Use Task Management Tool
Task Management tools and To-do list managers can be abundantly found everywhere, and most of them offer a great feature set. They can also be very helpful for most people, simplifying work and making you better organized for increased productivity and efficiency. We have previously covered some really good programs like Task List Guru and GeeTeeDee, each with its own pros and cons. Recently, Wunderlist caught our eye.
The first noticeable thing about thing application is its beauty. It's simple, easy to use, and is beautifully elegant. Wunderlist offers a to-do list with changeable background, date functions, drag and drop support, starring important tasks on your list and best of all, synchronization across devices.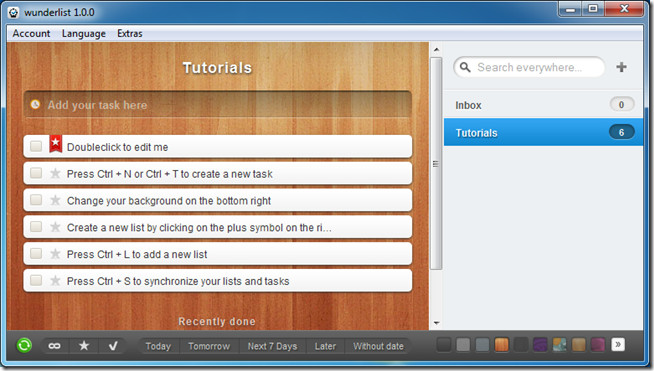 When launched the first time, Wunderlist will ask you to either create an account or login with an existing one. Your data is kept in sync with your account, so no matter what PC you access your account from, your to-do list will stay right there with you. In the main interface, the right hand pane allows you to create new lists, under which tasks are shown in the left pane. You can change background color/pattern from the bottom right side of the interface.
The bottom left side of the interface allows you to apply filters on the tasks being shown, and shows the synchronization status. The program supports a variety of languages and also allows searching for a particular task.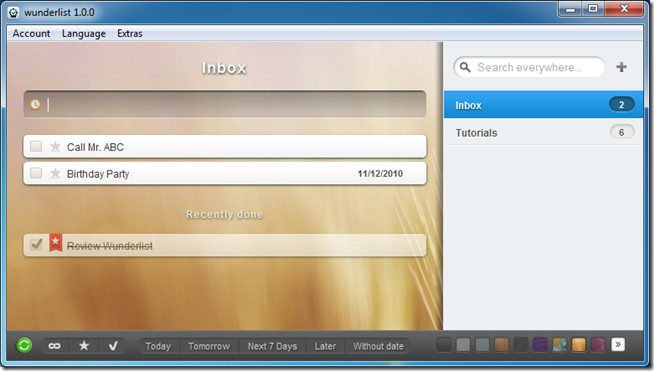 The program is simple, keeping a focus on minimalism. An app for iOS is coming soon which would definitely turn out to be beneficial for the users. However, in our opinion, keeping the mobile app iOS-only while ignoring Android and Windows Phone 7, for starters, might not turn out to be a very good idea for the developers.
We tested Wunderlist on Windows 7 32-bit operating system. It is also available for Mac OS X.