x264GUI: Encode High Definition Videos & Add Multiple Audio Streams
Encoding video files from one container to another can be a sophisticated and complex task, especially when you don't know much about its related technical jargon. Moreover, you need different codecs and switches to perform the encoding process before making your final copy. X264GUI is an open source x264 video encoder that provides graphical user interface (as the name implies) by integrating different codecs. It can mainly be used for encoding high definition video files to MKV, AVI, x264 and MP4 containers, as these are the most popular ones among high-def freaks. The application contains many advanced features, and lets you encode a video from an avisynth script (you can read more about avisynth here). There are various preset codec profiles integrated within this tool, or you may create your own according to your preferences.
The program has a simple user interface containing a total of six different tabs, each with its own set of options. To encode a video files, click Main tab (if you aren't already there) and select the input and output directory of your video file. You can also add Qp and Timecode files by clicking their corresponding buttons. As I mentioned earlier, the application contains a number of preset profiles for different video outputs. To use any preset profile, first you need to click Enable Profiles, and then select the desired profile from the drop down menu.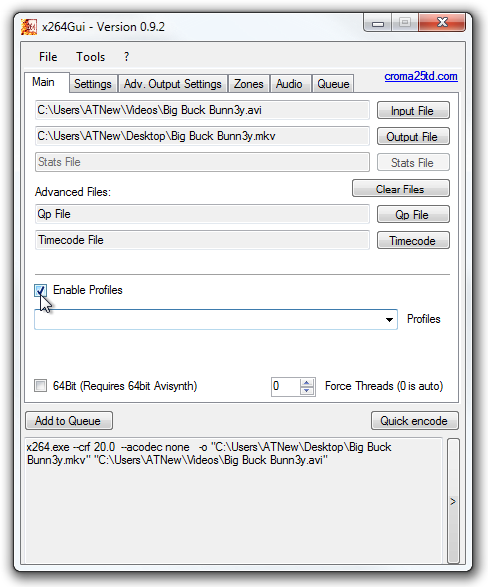 The Settings tab let you configure a few more options such as type of encoding and output quality (default is 20). Furthermore, you can manually enter video Resolution, SAR, FPS and Color Input Range. You may also enter any custom command, but first enable it by clicking Active.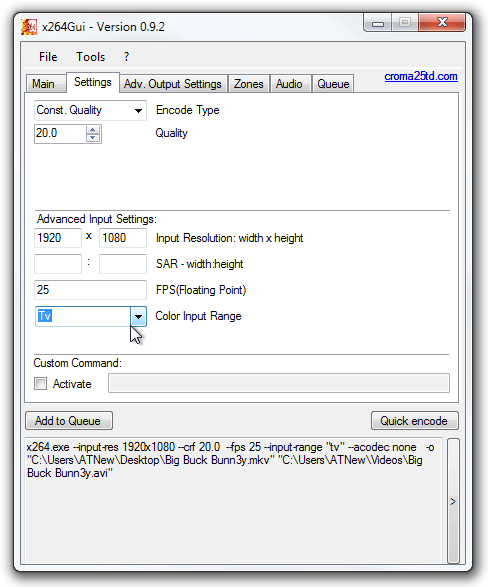 In case you want to configure some advanced options, click Adv. Output Settings tab. Here you can select Color Matrix, Color Output Range, Transfer, Overscan, Color Primaries and Video Format. If you can't understand any function, you can leave it to its default Undef state. The Zones tab let you customize Quantizier or Bitrate by inputting Start and End frames.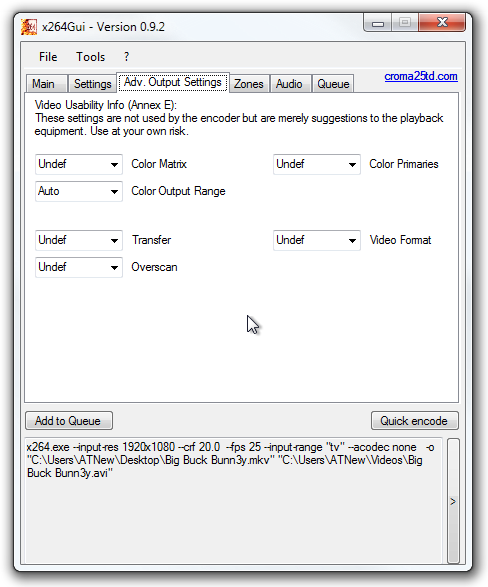 If you want to add multiple audio streams to your container, you can do so by going to the Audio tab, and then selecting an audio file you want to encode with the video. Here, you can also configure Audio mode and Audio Format. You may set its output quality by increasing/decreasing Audio Quality slider (from 0 to 9). Finally, you can encode multiple video files by adding them to Queue, which may save your time from encoding various files separately.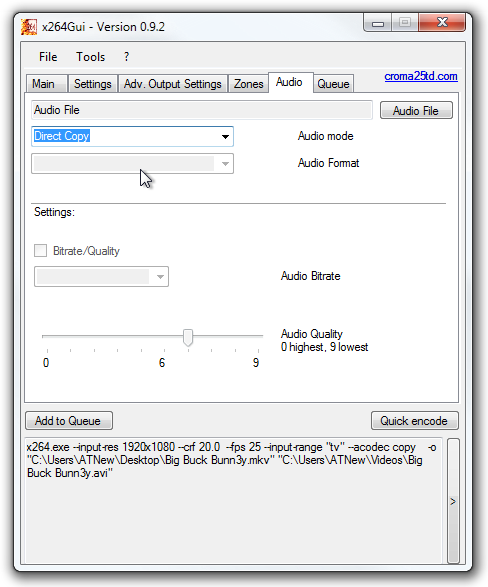 When you're done customizing your settings, click Quick encode to start the encoding process. Now, sit back and wait for the process to complete, which may take from a few to several minutes, depending on your file size and hardware specs.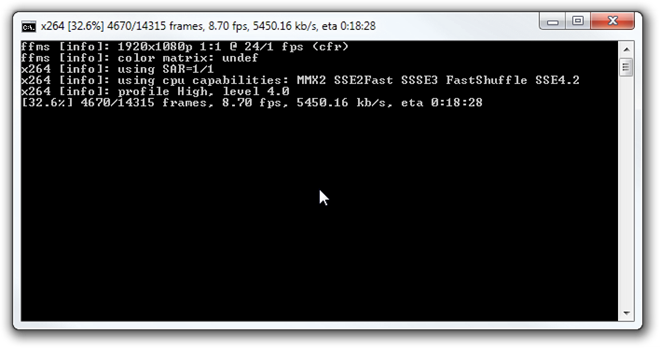 The tool works on Windows XP, Windows Vista, Windows 7 and Windows 8.