Hands-On With The Windows 8.1 Xbox Music App: New UI, Better Syncing & Free Radio Streaming
Pandora and Spotify have reigned over the online music streaming scene for a long, but it seems that the big boys have finally turned their attention to the niche. Xbox Music, iTunes Radio, Google Play Music All Access and Twitter's #Music all came out in quick succession. While none of these services are perfect for now, the teams behind them are constantly striving for improvement. With the big Windows 8.1 reveal, Microsoft did not forget to throw some attention the way of Xbox Music. As can be expected after the announcement of iTunes Radio, the changes in Xbox Music have a lot to do with the service's free radio stations. You can now influence the radio's song selection by picking music that is already in your personal collection, and initiating a radio station from there. That is not all, however; the app also features a revamped interface, and better syncing of collection and playlists.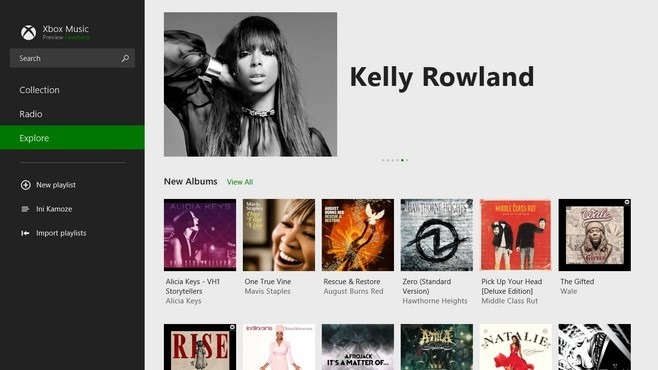 Pretty much like the Store app, Xbox Music in Windows 8.1 no longer makes users scroll long distances horizontally; everything is more compact, and is divided into neat tabs. These sections can be accessed via the bar provided at the left of the screen. Songs saved locally on your computer appear in the 'Collection' section, and this area also has the ability to pull music from the cloud. In fact, thanks to the new, cleaner Collection offered by Xbox Music, users can now listen to the music they have on their other Windows 8 devices, Windows Phone and SkyDrive. Managing playlists using multiple devices has become a lot easier in Windows 8.1 as well, because the Xbox Music app syncs them with your account in real-time.
Xbox Music finally has a search button of its own, so you no longer have to rely solely on Windows 8's universal search to find your favorite songs and artists. Anyone who is looking to casually browse through the app can go to the 'Explore' section to discover new artists and albums.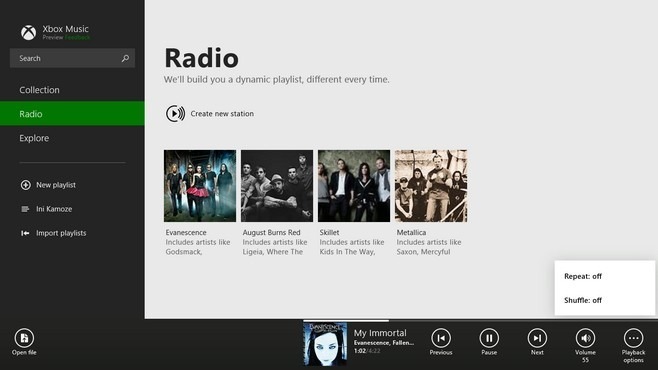 To start listening to a radio station, you can either pick a song from your personal collection, or go to the app's Radio station and start playback directly from there. In the first scenario, the radio button can be found in the song's dedicated menu. The resulting radio station wouldn't just have songs from the artists you selected, but also similar tracks from other artists. To see music controls, right-click anywhere on the screen.
Xbox Music's Radio service is free, though if you don't have a premium account, a few ads occasionally show up during playback. Microsoft has claimed that the current version of the app has less than half of the features that will come out in the final release of Xbox Music with Windows 8.1 GA. If that turns out to be true, the service can really give any competitor a run for its money in the future.