xCloud Syncs Files Between PC, Mac, Android & iOS Over Cloud & WiFi
Dropbox was once considered the cutting edge of cloud services, but now it seems every other company in the tech industry is hopping on the cloud computing bandwagon. The latest entrant in this field xCloud. No, it's not another cloud storage solution with unlimited storage, but rather a files synchronization app that lets you sync your files between a desktop PC and an Android or iOS mobile device. Though, what's special about the service is that you can perform syncing over your local Wi-Fi network as well, bypassing the need to upload files to the cloud first. So basically your PC itself works as a cloud storage for you, letting you access the stored content from anywhere you find internet connectivity. In addition, you can send Wake On LAN commands through the mobile device to access the storage remotely if your PC is in sleep mode, provided your motherboard supports this option. It's dead simple to configure and even simpler to use.The desktop client is only available for Windows at the moment, with the Mac OS X variant already in the pipeline. To get started, download and install the application on your desktop machine. When you launch it for the first time, you'll be presented with a configuration wizard. Specify your destination drive and click Next to continue.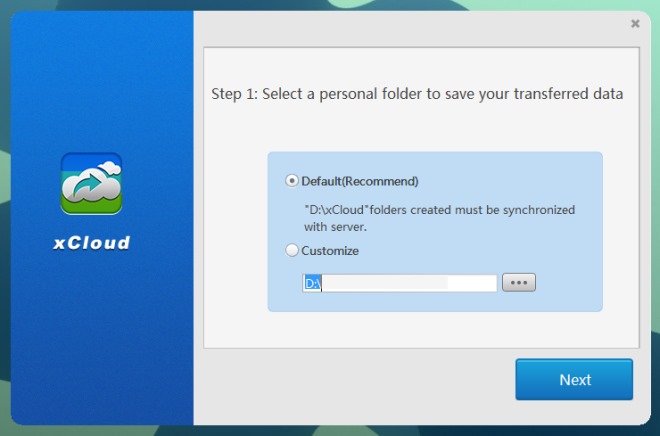 It's great to see that xCloud lets you specify multiple directories for syncing at the same time, making it easier to sync files from multiple disk drives and folders.
You'll also require an xCloud account if you want to sync files remotely over the internet. To sign up for an account, just click Register in the login panel and enter the few required credentials. Once you have verified your account through email, input your email and password in the login panel to sign in.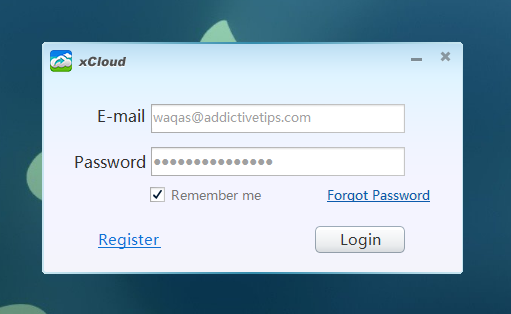 The desktop client is quite minimal in terms of the UI, but that's a good thing as it keeps away any clutter. You can configure a few application-specific settings from the preferences window under Account, Shared, Transmission and Advanced tabs. You can sign out your account, specify a default folder, toggle application start up behavior, and tinker with a few other generic options.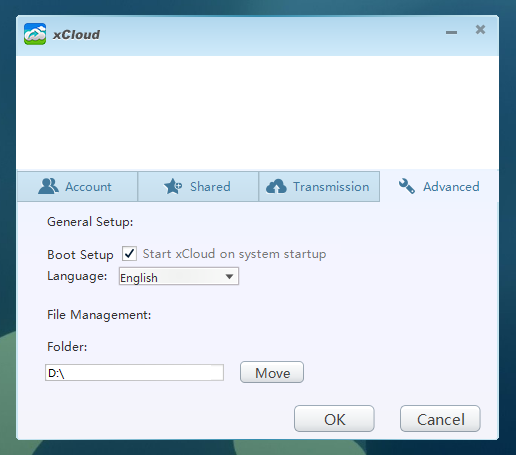 xCloud automatically creates some predefined directories in the selected folder, enabling you to quickly manage your items under Files, Music, Photos and Videos. Though you can also create custom folders as well if you wish.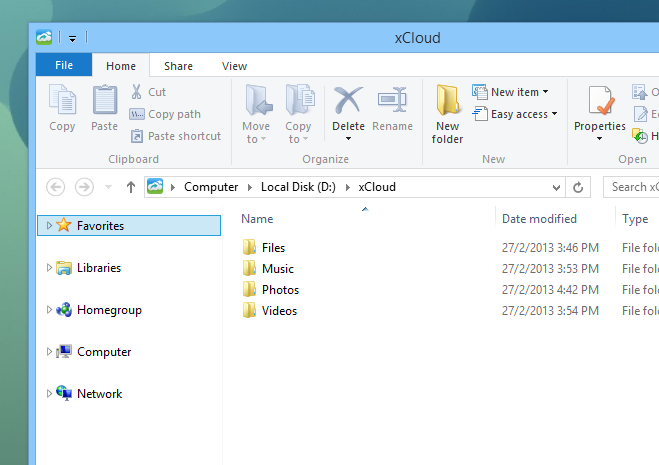 Next up, you'll need to download the mobile app to your device. Both Android and iOS apps work pretty much in a similar fashion, with the same set of features, settings and functionality. Even their design is fairly the same. The mobile app contains Windows 8-style tiles that let you navigate to different areas of xCloud. The Instant Uploads feature launches the camera app to instantly capture and upload photos. You can access photos, videos, music, and other files stored on your device from their related buttons. Tapping 'Switch to PC' allows to connect and browse files on your PC after entering your login information.
After establishing a successful remote connection, xCloud's screen turns green and you are able to switch between PC and Phone modes on the fly. In this mode, you can browse, view, upload, download and delete files at both ends.
xCloud also boasts an interesting direct link feature that allows to transfer files over your local Wi-Fi network. This makes file synching incredibly fast. To do this, right-click the application's notification icon and select the 'WiFi Direct-link' option from the context menu.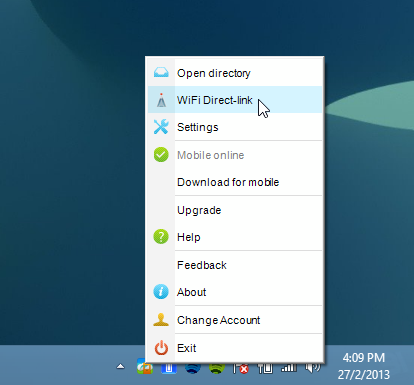 When a miniscule popup window appears, click the Startup button.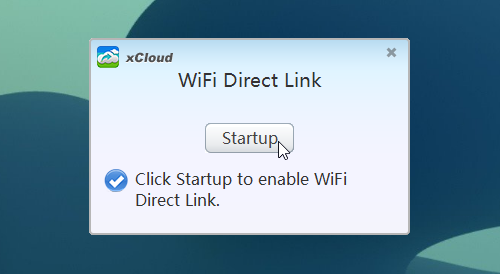 Now just head to the Settings screen in the mobile app and tap the same Wifi-Direct Link button to connect your devices. That's it – you're ready to sync your content over Wi-Fi. The Settings screen also lets you manage your linked devices and toggle some other options. Lastly, there's an xCloud Neighbor feature that allows to scan all nearby xCloud devices and transfer files among them.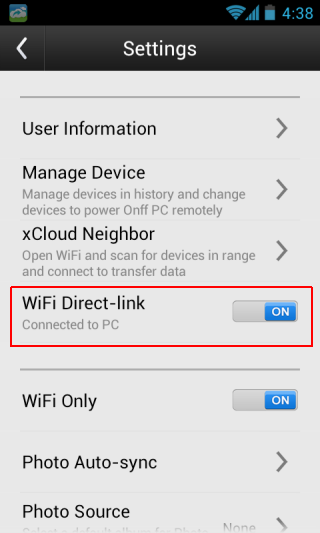 All in all, xCloud is a handy file synchronizing application that makes file transfers across devices a smooth experience. Testing of the app was carried out on Windows 8 Pro, 64-bit and HTC Desire Z running Android 4.0.4.