Your Menu: Add Programs, Application Links, Shortcuts In Right-Click Context Menu
Your Menu customizes Windows Explorer context menu, giving users an enhanced control over the items they wish to retain (or discard) from the right-click context menu. It offers two different ways in which programs links can be added from the Windows Explorer context menu. You can add a single program or create a customized sub-menu for adding multiple types of applications' links in right-click  context menu.
To begin with, launch the application and check Single or Cascading option to add single program link or sub-menu to the right-click menu. If you check Single option, click the Select Program field to specify executable file (Firefox, Ms Word, Ms Excel etc) that you want to add to the right-click menu. Click Generate REG file to create registry files that will implement these changes. Once done, double-click the registry file to enable the program's link in  right-click menu. Note that another file, which is used to undo the changes you made in the registry is also created. Double-click the undo registry file to undo these changes.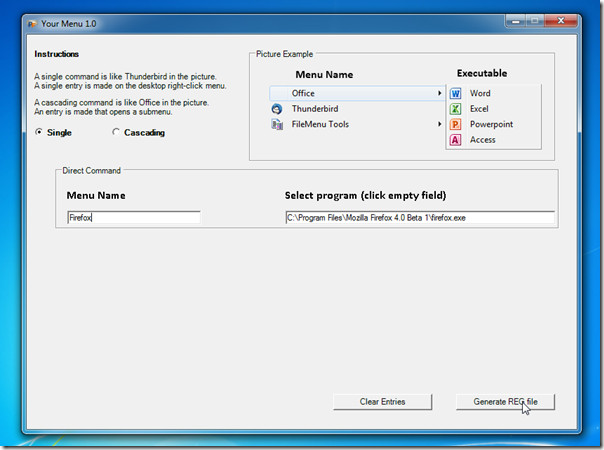 You can add a sub-menu with list of your own programs by checking Cascading option. Create registry entries similar to those created for Single program links by clicking Generate REG file.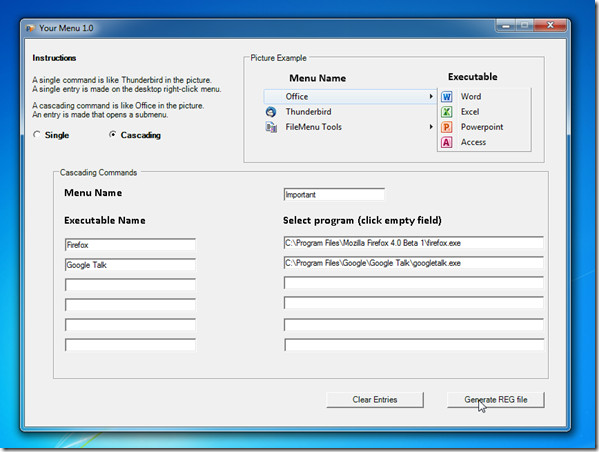 The specified sub-menu will appear in the right-click context menu along with the list of programs, as shown in the screenshot below.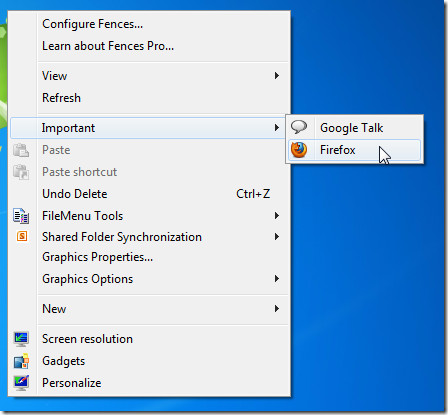 The application has a simple interface. You can add several programs' links or create sub-menus as required. It comes in handy in situations when you need to switch frequently between different applications.
The application supports Windows 7 only, testing was carried out on x86 system.
Fore more, you can check out Context Menu Editor and CMenu.