YouVue For Windows 8 Aggregates YouTube Music Videos By Genre & Shows Their Lyrics
Websites such as YouTube, Vimeo, Metacafe and Dailymotion have achieved their popularity due to their ability to host thousands of videos uploaded by users and let others view and comment on them without having to pay anything. Other than a huge number of casual users, these websites are also used by major content providers like TV channels, blogs, musicians and educators to host demonstration videos, tutorials, music videos, news coverage and pretty much anything you can think of. Due to the huge number of music videos available on YouTube, a lot of people use it to listen to music. If most of your YouTube access revolves around viewing and listening to music videos, we have a Windows 8 and RT app that lets you avoid having to browse YouTube for music videos by providing you with an interface focused entirely on them. YouVue allows you to watch music videos from different genres and gives you access to top music charts from different countries. You can create playlists, add videos to a favorite list, and view your history to listen to a track again.
When you launch the app, it might take sometime in order to load the video thumbnails. The main interface has a Now Playing section on the left side, while genres are listed on the right. You can choose from Pop, Top 40, Easy listening, Rock, Dance Classics, Jazz, Gold and other popular musical genres for watching related videos.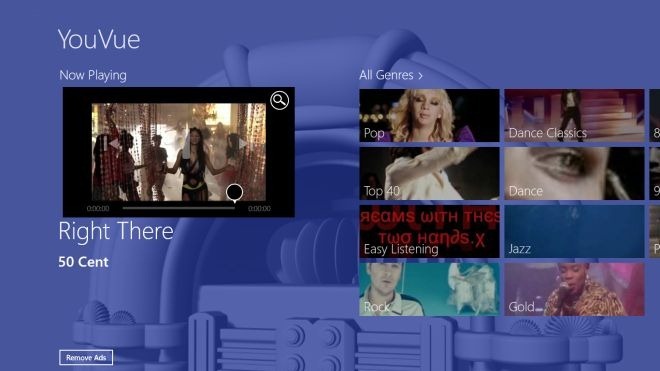 Clicking a genre opens up its main page listing all its videos. You can play individual videos or add all of them to the playlist by clicking the Play/Pause button.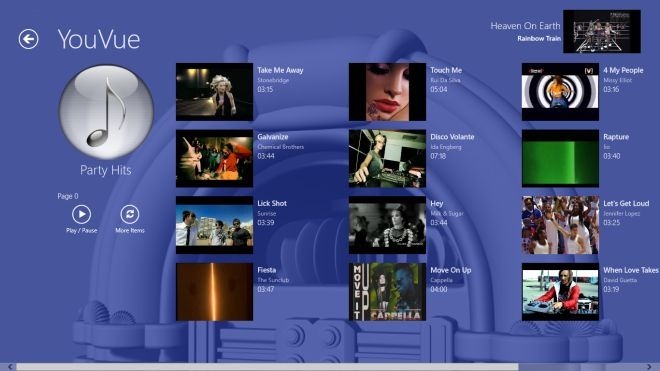 Clicking a video thumbnail brings its popup, allowing you to play it, add it to the current playback queue, or favorite it. In addition, you can search for other videos with the same title, and find other songs by the same artist.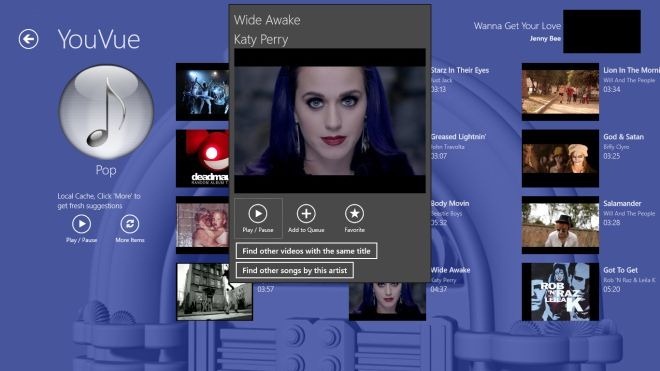 Scroll to extreme right side of the main interface in order to view the top charts from different countries as well as genres.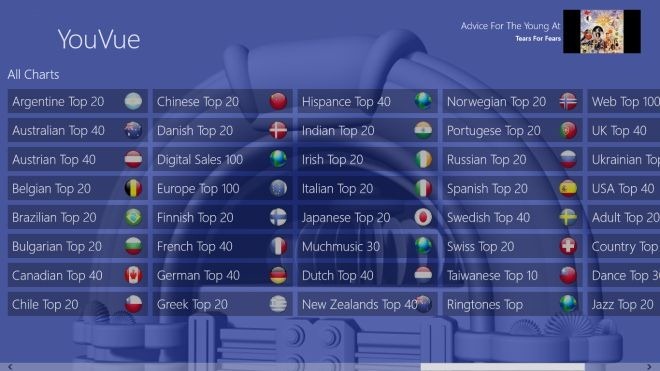 Right-clicking inside the app brings up the top and bottom app bars that lets you access different sections of the app including What's New, Genre, Charts, Queue, History and Favorites from the top, and control the current playlist from the bottom.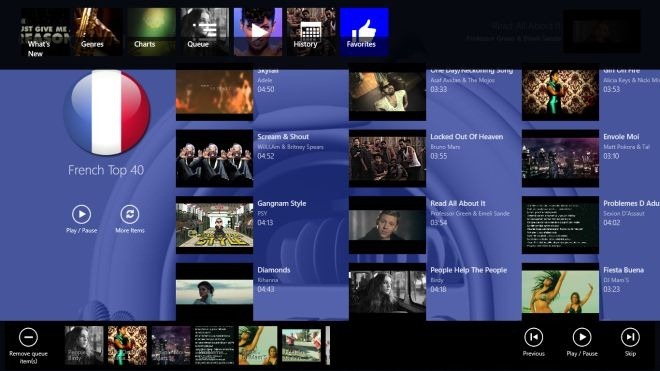 The Setting Charms gives you access to the general settings of the application. You can Clear cache and history, choose a video quality from Low, Medium and High, select the maximum number of cached videos, and manage background loading and playback-related options.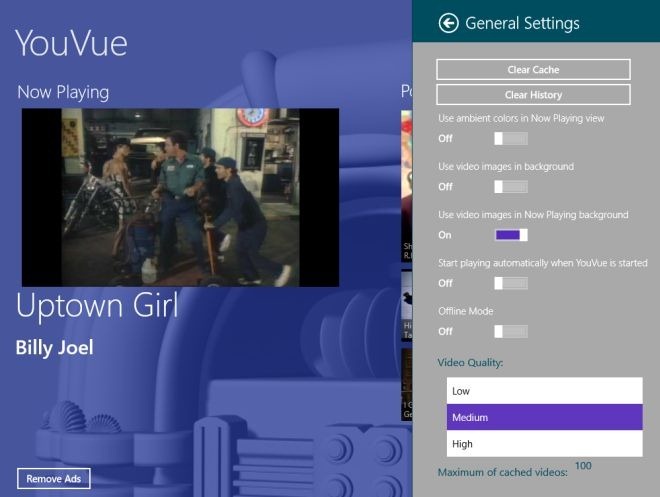 YouVue works on Windows RT as well as both 32-bit and 64-bit versions of Windows 8.