How to view the Chrome cache on Windows 10
Chrome used to have two dedicated URLs that you could visit from inside Chrome to view its cache. Those two URLs have been removed, leaving users with no easy way to view the Chrome cache. The URLs were removed due to a bug and they don't seem likely to make a comeback. If you want to view the Chrome cache in a simple format, you will need a third-party app called ChromeCacheView.
Chrome cache on Windows 10
Download and run ChromeCacheView. Before you can use it though, you need to know where your Chrome profile folder is. You have to select the Cache folder inside the profile folder in order to view the cache. The cache is, of course, kept separate for each profile.
Find Chrome profile folder
Open Chrome in the profile that you want to view the cache for. In the URL bar, enter the following.
chrome://version/
Look for the 'Profile path' field and copy the path to your clipboard.
View Chrome cache
Run ChromeCacheView. Go to File>Select cache folder.
In the window that opens, enter the path that you copied. The path that the app detects automatically doesn't always work, and neither does clicking the 'Chrome Cache Folder' button.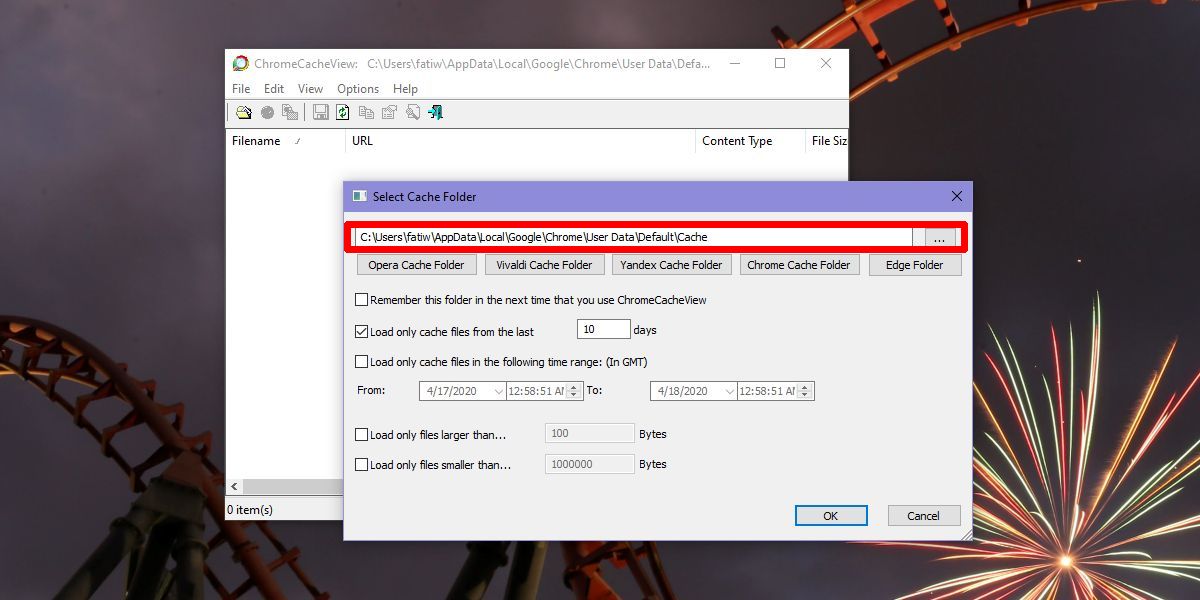 After you select the cache folder, you can add filters to the items that will be shown from the cache. For example, you can limit it to show files from the last 10 or 20 days. Likewise, you can limit the files that are shown to a certain size, or to a certain date and time. Click OK, and the files will be loaded.
Open Chrome cache files
Chrome cache files can all be accessed from File Explorer and as such, you can open them like any other file provided you have the right app to view them. The ChromeCacheView tool makes it easier to find and open them.
To open a file, right-click it in the app and select the 'Open Selected Cache File' option from the context menu.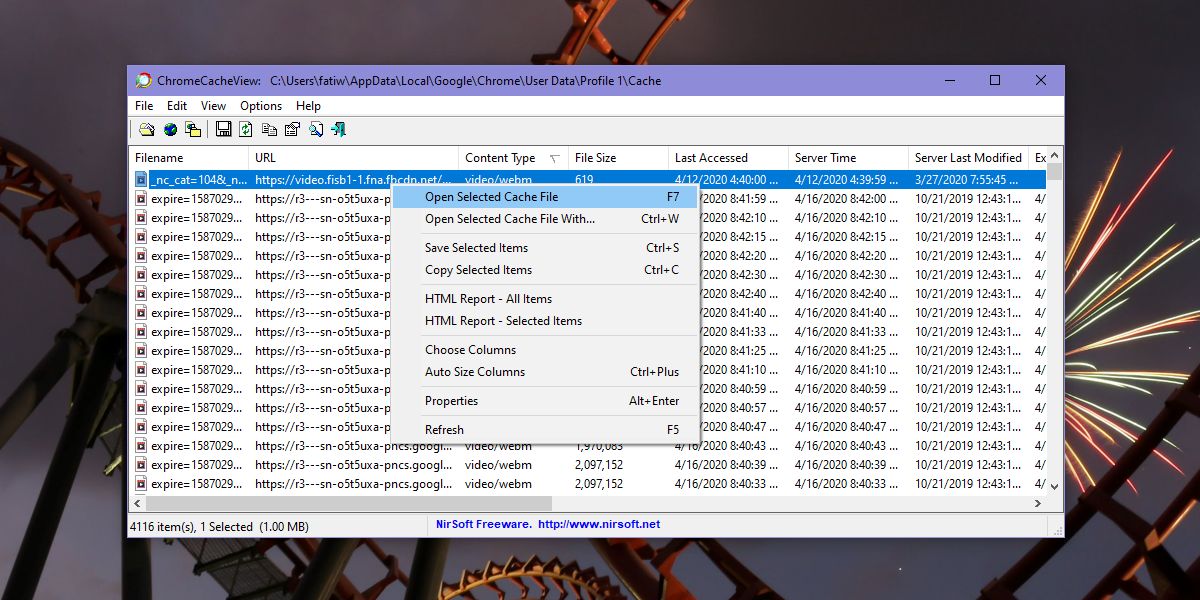 If the file is a type that you haven't set a default app for, you will see the Windows 10 app picker menu that allows you to select a recommended app or pick one installed on your system.
The key to accessing the Chrome cache is knowing where the cache folder is. ChromeCacheView allows you to filter the files so that it is easier for you to find one e.g., a file cached from a particular website or a file cached on a particular date.